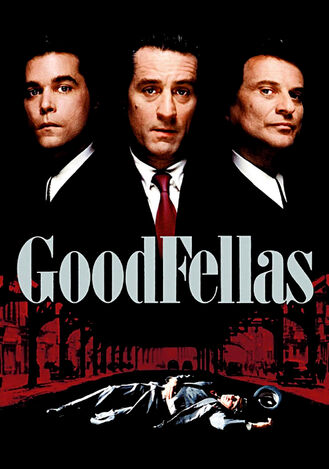 Goodfellas (1990)
Director: Martin Scorsese
The true story of Henry Hill (Ray Liotta), a half-Irish, half-Sicilian Brooklyn kid who is adopted by neighbourhood gangsters at an early age and climbs the ranks of a Mafia family under the guidance of Jimmy Conway (Robert De Niro).
Male Deaths
Edit
Female Deaths
Edit
Bobby Vinton was played by his son Robbie Vinton, who lip-synched to his father's recording.
According to Ray Liotta, Martin Scorsese was so involved in every detail of the cast's wardrobe, that he tied Liotta's tie himself to make sure it was accurate for the film's setting.
Al Pacino was offered the role of Jimmy Conway, but he turned it down, due to fears of typecasting. Ironically, that same year, Pacino ended up playing an even more stereotyped gangster, Big Boy Caprice in Dick Tracy (1990). He admits he regrets this decision.
According to Henry Hill, whose life was the basis for the book and film, Joe Pesci's portrayal of Tommy DeSimone was ninety to ninety-nine percent accurate, with one notable exception. The real Tommy DeSimone was a massively built, strapping man.
After Joe Pesci's mother saw the film, she told her son that the movie was good, then asked him if he had to curse so much.
Robert De Niro wanted to use real money for the scene where Jimmy hands out money, because he didn't like the way fake money felt in his hands. The Prop Master gave De Niro five thousand dollars of his own money. At the end of each take, no one was allowed to leave the set until all the money was returned and counted.
The "How am I funny?" scene is based on something that actually happened to Joe Pesci. While working in a restaurant, a young Pesci apparently told a mobster that he was funny, a compliment that was met with a less-than-enthusiastic response. Pesci relayed the anecdote to Martin Scorsese, who decided to include it in the film. Scorsese didn't include the scene in the shooting script, so that Pesci and Ray Liotta's interactions would elicit genuinely surprised reactions from the supporting cast.
Community content is available under
CC-BY-SA
unless otherwise noted.