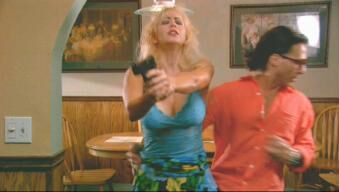 Glori-Anne Gilbert (1969 - )
a.k.a. Gloria Lynn Berg
The House on Hooter Hill (2007) [Sue]: Shot in the back, along with Danny Pape, by Friday, just as Glori-Anne is about to shoot everybody else. (Thanks to Drizzt)
Treasure Hunt (2003) [Glory]: Stabbed twice in the back by Jim Wynorski while kissing him because she believed she'd won the contest.
Countess Dracula's Orgy of Blood (2004) [Diana, the Countess]: Impaled through her back with a stake that exits her chest; she subsequenty turns to bones then ash. (Nudity alert: Topless)
Lust Connection (2005) [Jenny/Susan]: Plays dual role.'Jenny' is strangled by her twin sister 'Susan' while she was relaxing in a spa. (Nudity alert: Full frontal) 'Susan' is shot in her back by Jay Richardson while she was holding a gun on Frank Harper after failing to seduce him.
Crash Landing (2005) [Erica,Cabin Crew]: As a terrorist posing as a stewardess, she is garrotted by Antonio Sabato, Jr.
Community content is available under
CC-BY-SA
unless otherwise noted.