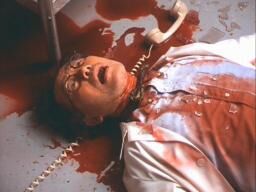 George Takei (1937 - )
Film Deaths
[
]
The Green Berets (1968) [Captain Nim]: Killed in combat with the Viet Cong when they bomb and blow up the outpost he's taking cover under. (Thanks to Betty)
Return from the River Kwai (1989) [Lieutenant Tanaka]: Stabbed in the neck with a Japanese blade by Edward Fox who then slashes his throat while Takei goes to shoot him as their ship sinks, he then falls overboard with his body sinking into the depths.
Bug Buster (Some Things Never Die) (1998) [Dr. Hiro Fujimoto]: Killed by a giant mutant insect after it hatches from a pupa in his laboratory. (Thanks to Shadrach)
Scooby-Doo! and the Samurai Sword (2009; animated) [Old Man Samurai]: Ceases to exist after a fight with the black samurai after talking to Fred and Scooby (voiced by Frank Welker), Shaggy (voiced by Casey Kasem), Velma (voiced by Mindy Cohn), Daphne (voiced by Grey DeLisle), Miyumi (voiced by Kelly Hu), Mr. Takagawa (voiced by Sab Shimono) and Kenji (voiced by

Gedde Watanabe

).
TV Deaths
[
]
Futurama: Bender's Game (2008; animated) [George Takei]: Killed in an explosion when he crashes the Enterprise. (Played for comic effect.) (Thanks to Tommy)
Transformers Animated: Five Servos of Doom (2009; animated) [Yoketron]: Fatally wounded (off-screen) by Lockdown (voiced by Lance Henriksen). Prowl (voiced by Jeff Bennett (II), tries to save him but he tells him you must not sacrifice a piece of the future to bring back the past. He then goes offline, Yoketron only appeared in flashbacks.
Video Game Deaths
[
]
Skylanders Giants (2012) [Drill-x]: Blows up after being defeated.