Wiki Targeted (Entertainment)
Play Sound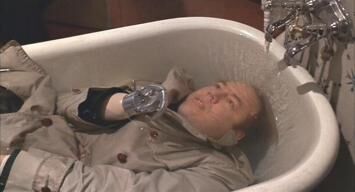 George Kennedy (1925 - 2016)
Film Deaths
[
]
Strait-Jacket (1964) [Leo Krause]: Decapitated with an axe by Diane Baker. (Thanks to Sammy)
Mirage (1965) [Willard]: Shot in the chest by Diane Baker, as George tries to shoot Gregory Peck. (I am vague to whom shot him).
Proof of the Man (Ningen no shomei) (1977) [Ken Shuftan]: Stabbed in an alley after being called "Japanese lover".
Brass Target (1978) [General George S. Patton]: Neck broken when Max von Sydow shoots him in the neck with a high-powered rubber bullet rifle when his driver crashes into Max's car. (as Max also had sabotaged the car window, preventing it from closing). (This movie theorizes that Patton's death was an assassination, rather than an accident, which is unlikely.) (Thanks to Fred)
Steel (1979) [Big Lew Cassidy]: Falls to his death during construction of skyscraper (tragically Kennedy's stunt double, A.J. Bakunas, died filming this scene from the injuries sustained when the air bag broke on impact of his fall).
Virus (Day of Resurrection; Fukkatsu no hi) (1980) [Adm. Conway]: Dies when the base he is on is hit by a nuclear bomb.
Death Ship (1980) [Ashland]: Dies of shock/blood loss after his arm is torn off in the gears of the ship's engine room. (Thanks to Michael)
Demonwarp (1988) [Bill Crafton]: Killed by the Bigfoot creature. (Thanks to PortsGuy)
Nightmare at Noon (1988) [Sheriff Hanks]: Killed in an explosion when he blows up Brion James' van. (Thanks to Michael)
Uninvited (1988) [Mike Harvey]: Bitten on the foot by the mutant cat; he dies of the effects of the bite (causing his body to produce an excessive amount of blood) some time later (his wrapped up body is later seen as the other survivors throw him overboard for a burial at sea). (Thanks to PortsGuy)
Small Soldiers (1998) [Brick Bazooka]: Voicing living toys, the first copy is killed in a crash along with his Squad after their vehicles crash in a Pond. Some Copies are seen destroy in different way. during the final Battle. The remaining one Spin to their deaths after Gregory Smith places Chip Hazard (Tommy Lee Jones) in an electric pole, whilst the other soldiers dying of electrocution.
The Gambler (2014) [Ed]: Dies (off-screen) of old age; we see George talking to his grandson (Mark Wahlberg) on his death bed in hospital before cutting to his funeral.
TV Deaths
[
]
Have Gun Will Travel: The Legacy (1961) [Sam Tarnitzer]: Shot to death in a shoot-out with Richard Boone; he dies soon afterwards.
Gunsmoke: The Warden (1964) [Stark]: Shot to death in a shoot-out with James Arness.
Backstairs at the White House (1979 TV mini-series) [President Warren G. Harding]: Presumably dies of a heart attack (although Harding's cause of death has been disputed, with some people even speculating that he committed suicide or was murdered by his wife). (I have not seen this mini-series, so I don't know whether his death was actually depicted or simply mentioned.)
The Young and the Restless : #1.7764 (2003) [Albert Miller]: Died (off-screen) of natural causes. George later reprised the role as a ghost in #1.9553 episode in 2010.
Sands of Oblivion (2007 TV) [John Tevis]: Dies of shock/blood loss after a demon tears his arm off, as Victor Webster tries to keep him alive. (Thanks to Stephen)