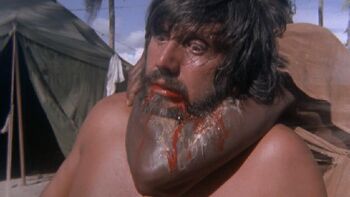 George Eastman (1942 - )
a.k.a. Luigi Montefiori, many other pseudonyms
Screenwriter
My Name Is Pecos (2 once di piombo) (1966) [Clane Henchmen] Blown up with an explosive barrel is shot by Robert Woods.
Django, Prepare a Coffin (Preparati la bara!) (1968) [David Barry] Burned to death when Terence Hill shoots a lantern George is holding, causing the entire building to burn down. 
Hate Thy Neighbor (Odia il prossimo tue) (1968) [Gary Stevens] Shot to death by Horst Frank.
The Unholy Four' '(Ciakmull - L'uomo della vendetta) (1970) [Hondo]: Shot to death in the films climatic shoot-out. 
Rabid Dogs (Cani arrabbiati; Kidnapped; Wild Dogs) (1974) [Thirtytwo]: Shot in the head by Maurice Poli, after George had been wounded in a shoot-out.
Emmanuelle's Revenge (Emanuelle e Francois le sorelline; Blood Vengeance; Demon Rage) (1975) [Carlo]: While still alive at the end of the film, the film ends with him realizing he's locked himself the hidden room without food or water which will eventually cause him to starve.  
Anthropophagus (Antropophagus; The Grim Reaper; Man Beast; The Savage Island) (1980) [Nikos Karamanlis]: Hit in the stomach with a pickaxe by Saverio Vallone as Tisa Farrow looks on in shock; George then pulls out his own intestines and begins eating himself as he dies.
Porno Holocaust (1981) [Professor Lemuan]: Strangled in a choke-hold by the mutant (actor uncredited) when the mutant comes up behind him. His body is shown again later on when Mark Shannon discovers him.
Absurd (Rosso sangue) (1981) [Mikos Stenopolis] Decapitated with an axe by Katya Berger.
1990: The Bronx Warriors (1990: I guerrieri del Bronx) (1982) [Golan]: Stabbed in the back by Fred Williamson at the end of a fight.
2019: After the Fall of New York (2019: Dopo la caduta di New York) (1983) [Big Ape] Charred into a skeleton after being hit by. numerous lasers.  
Ironmaster (La guerra del ferro: Ironmaster) (1983) [Vood] Stomached sliced open with a blade by Sam Pasco
Warriors of the Wasteland (The New Barbarians, I nuovi barbari) (1983) [One] Drilled through the back with a giant drill by Giancarlo Prete  causing him to crash his car into a wall which then blows up.  
Hands of Steel (Atomic Cyborg; Vendetta dal futuro) (1986) [Raul Morales]: Head crushed by Daniel Greene.
None known.
Community content is available under
CC-BY-SA
unless otherwise noted.