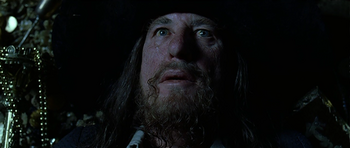 Geoffrey Rush (1951 - )
Film DeathsEdit
Les Miserables (1998) [Javert]: Commits suicide by drowning himself in the river; we see him jumping in after handcuffing himself.
House on Haunted Hill (1999) [Stephen H. Price]: Rapidly decomposes and shatters after a supernatural force comprised of all the patients' souls consumes him (he later appears as a ghost along with Famke Janssen being tortured by the spirit patients).
Mystery Men (1999) [Casanova Frankenstein]: Falls into his own Psycho-frakulator machine after being thrown over a balcony by Ben Stiller following a fight, where his body is distorted beyond recognition and then finally disintegrated.
Candy (2006) [Caspar]: Dies of a heroin overdose after saying goodbye to Heath Ledger; his body is later seen when Heath returns to find he has died and sits beside him
TV DeathsEdit
The Life and Death of Peter Sellers (2004 TV) [Peter Sellers]: Dies (off-screen) of a heart attack, several years after the final scene; his death is mentioned in the on-screen text at the end of the movie. (There is also a dream sequence where Rush as Sellers and several of his characters are killed in a nuclear explosion). (Thanks to Tommy)