(I added a category.)

Tags: Source edit, Mobile web edit, Mobile edit

 

(41 intermediate revisions by 16 users not shown)
Line 1:
Line 1:
−

[[File:Genewilder-starttherevolution.jpg|frame|Gene Wilder shooting Gene Wilder in 'Start the Revolution Without Me']][http://www.imdb.com/name/nm0000698/ Gene Wilder] (1933 - 2016)

+

[[File:Genewilder-starttherevolution.jpg|frame|Gene Wilder shooting Gene Wilder in 'Start the Revolution Without Me']]

 
+
 
+

[http://www.imdb.com/name/nm0000698/ Gene Wilder] (1933 - 2016)

 
 
 

Director/screenwriter

 

Director/screenwriter

 
+
 
+

"We are the music makers, and we are the dreamers of the dreams."

 
 
 

==Film Deaths==

 

==Film Deaths==

Line 7:
Line 11:
 
 
 

==TV Deaths==

 

==TV Deaths==

 
+

*'''''The Scarecrow'' (1972 TV)''' [''Lord Ravensbane'']: Playing a scarecrow brought to life by witchcraft, he commits suicide by breaking the corncob pipe that maintained the spell. He dies shortly afterwards in [[Blythe Danner]]'s and [[Pete Duel]]'s arms, with his sacrifice making him fully human in death.

−

None known.

 
 
 
 

==Notable Connections==

 

==Notable Connections==

 
⚫
 
 
−

*Ex-husband of Mary Mercier

+

*Ex-husband of Mary

 
 
 
+

*Husband of [[Gilda Radner]] (widowed).

⚫
 
 
 
−

*Husband of [[Gilda Radner]] (widowed)

+

*Husband of

 
 
 
+

==Gallery==

−

*Husband of Karen Boyer

 
 
+

<gallery>

 
+

genewilder-scarecrow.jpg|Gene Wilder dead (between [[Blythe Danner]] and [[Pete Duel]]) in ''The Scarecrow''

 
+

</gallery>

 
+
 
+

{{DEFAULTSORT:Wilder, Gene}}

 

[[Category:Actors|Wilder, Gene]]

 

[[Category:Actors|Wilder, Gene]]

⚫
 
 

[[Category:Comedians|Wilder, Gene]]

 

[[Category:Comedians|Wilder, Gene]]

−

[[Category:1933 Births|Wilder, Gene]]

 
⚫
 
 

[[Category:Directors|Wilder, Gene]]

 

[[Category:Directors|Wilder, Gene]]

 

[[Category:Writers|Wilder, Gene]]

 

[[Category:Writers|Wilder, Gene]]

−

[[Category:Death scenes by shooting|Wilder, Gene]]

+

[[Category: ]]

 
⚫
 

[[Category:Academy Award Nominees|Wilder, Gene]]

 

[[Category:Academy Award Nominees|Wilder, Gene]]

−

[[Category:Comedic death scenes]]

+

[[Category: ]]

−

[[Category:Death scenes by murder]]

+

[[Category: ]]

 

[[Category:2016 Deaths]]

 

[[Category:2016 Deaths]]

 
+

[[Category:Alzheimer's disease victims]]

 
+

[[Category:Korean War veteran]]

 
+

[[Category:Death scenes by shooting]]

 
+

[[Category:Death scenes by murder]]

 
+

[[Category:Death scenes by relative]]

 
+

[[Category:Death scenes by stabbing]]

 
+

[[Category:Death scenes by lynch mob]]

 
+

[[Category:Death scenes by suicide]]

 
+

[[Category:Comedic death scenes]]

 
+

[[Category:Off-screen deaths]]

 
+

[[Category:Death scenes by male killer]]

 
+

[[Category:Death scenes by supernatural forces]]

 
+

[[Category:Death scenes by falling]]

 
+

[[Category:Death scenes by drowning]]

 
+

[[Category:Death scenes by magic]]

 
+

[[Category:Death scenes by dying in someones arms]]

 
+

[[Category:Death scenes by sacrifice]]

 
+

[[Category:Golden Globe Nominees]]

 
+

[[Category:Caucasian actors and actresses]]

 
+

[[Category:Motor Mouths]]

 
+

[[Category:Liberals]]

 
+

[[Category:Divorced actors and actresses]]

 
+

[[Category:Widowed actors and actresses]]

 
+

[[Category:Parents]]

 
+

[[Category:Jewish-American actors and actresses]]

 
+

[[Category:Actors who died in a Scorsese movie]]

 
+

[[Category:People who died in a Peter Weir film]]

 
+

[[Category:Actors who died in Roger Corman Movies]]

 
+

[[Category:Actors who died in Clint Eastwood Movies]]

 
+

[[Category:Actors who died in Elmore Leonard Movies]]

 
+

[[Category:Sesame Street cast members]]

 
+

[[Category:Producers]]

 
+

[[Category:Legends]]

 
+

[[Category:Alice in Wonderland Cast Members]]

 
+

[[Category:Seinfeld cast members]]

 
+

[[Category:Actors who died in a Michael Winner movie]]

 
+

[[Category:Saturday Night Live cast members]]

 
+

[[Category:Frankenstein Cast Members]]

 
+

[[Category:Actors who died in Arnold Schwarzenegger Movies]]

 
⚫
 
+

[[Category:Western Stars]]

 
+

[[Category:Friends cast members]]

 
+

[[Category:Will & Grace Cast Members]]

 
+

[[Category:Voice Actors]]

 
+

[[Category:Performer's Character Kills Another]]

 
+

[[Category:Retired]]
---
Latest revision as of 02:52, 16 March 2021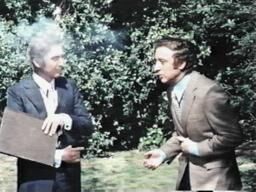 Gene Wilder (1933 - 2016)
Director/screenwriter
"We are the music makers, and we are the dreamers of the dreams."
Start the Revolution Without Me (Two Times Two) (1970) [Claude Coupe/Philippe de Sisi]: Playing a quadruple role as two sets of twins in different time periods, the first 20th-century twin is shot in the stomach by his brother, then the second 20th-century twin is shot in the back by the Man in the Iron Mask. (The fate of the 18th-century twins is never revealed, due to the deaths of all the would-be narrators.) (Played for comic effect.)
The Scarecrow (1972 TV) [Lord Ravensbane]: Playing a scarecrow brought to life by witchcraft, he commits suicide by breaking the corncob pipe that maintained the spell. He dies shortly afterwards in Blythe Danner's and Pete Duel's arms, with his sacrifice making him fully human in death.
Ex-husband of Mary Mercier.
Ex-husband of Mary Joan Schutz.
Community content is available under
CC-BY-SA
unless otherwise noted.