Gene Evans
(1922 - 1998)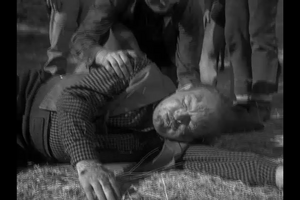 Film Deaths:
Edit
Fixed Bayonets! (1951) [Sergeant Rock]: Shot to death by a Japanese sniper, when the sniper fires into the cave where the US soldiers have taken cover, and Gene is hit by the ricochet.
The Golden Blade (1953) [Hadi]: Crushed to death, along with George Macready, when Rock Hudson pulls the golden sword out of the stone wall, causing it to crumble.
Cattle Queen of Montana (1954) [Tom McCord]: Killed in a battle between the cavalry and the Blackfoot warriors.
The Bravados (1958) [John Butler]: Shot in the back by Stephen Boyd.
Revolt in the Big House (1958) [Lou Gannon]: Shot by police during a shoot-out; he dies (off-screen) in the hospital shortly afterwards.
Devil Times Five (The Horrible House on the Hill; People Toys) (1974) [Papa Doc]: Stabbed/impaled by a sword that comes swinging down, in a deathtrap set up by Leif Garrett and Tierre Turner. His body is shown again later on as the children cover him with snow to make a snowman.
TV Deaths:
Edit
Gunsmoke: Thirty A Month And Found (1974) [Will Parmalee]: A Texan and robber, he flees Kansas with the fatally wounded Van Williams, pursued by James Arness and Ken Curtis. They catch up with him near a cattle drive on the Texas border, just after Williams dies. He makes it clear he is now "home" and will not surrender. He rides off and stampedes the cattle and deliberately comes off his horse and is trampled to death. (Thanks to Brian)
The Last Day (1975) [Marshal Connelly]: Shot down by Richard Jaeckel as he tries to stop him riding out of town after the Dalton gang have robbed the 2 banks in Coffeyville. (Thanks to Brian)
The Alamo: Thirteen Days to Glory (1987,TV) [McGregor]: Stabbed in the back by four Mexican soldiers during the final battle at the Alamo.
Community content is available under
CC-BY-SA
unless otherwise noted.