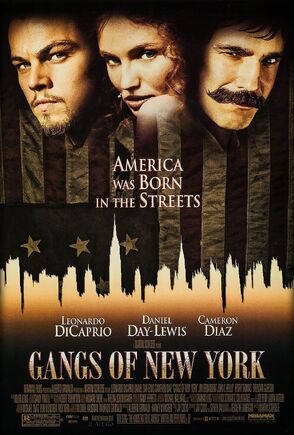 Gangs of New York (2002)
Director: Martin Scorsese
In 1863, Amsterdam Vallon (Leonardo DiCaprio) returns to the Five Points area of New York City seeking revenge against Bill the Butcher (Daniel Day-Lewis), his father's killer.
Male Deaths
Edit
Female Deaths
Edit
The original budget was $83 million.
It is the only Best Picture Oscar nominee that year that did not win any Academy Awards.
The scenes where Bill the Butcher taps his glass eye and where he yells, "Whoopsie daisy!" during the knife-throwing act were both ad-libbed.
Daniel Day-Lewis became so uncomfortable with the greasy hairstyle he wore as Bill the Butcher that he shaved his head immediately after filming completed.
Leonardo DiCaprio accidentally broke Daniel Day-Lewis' nose while filming a fight scene. Day-Lewis continued to film the scene despite the injury.
John C. Reilly was unsure about participating in the film when offered, but at the persuasion of friend and director Paul Thomas Anderson, a fan of Martin Scorsese himself, insisted to Reilly that he take the role. Reilly would later work again with Scorsese and Leonardo DiCaprio again in The Aviator (2004).
Community content is available under
CC-BY-SA
unless otherwise noted.