Fumio Watanabe (1929 - 2004 )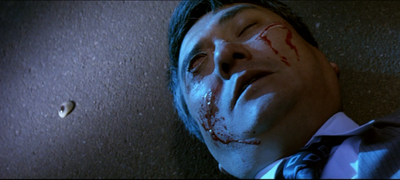 Film Deaths
Edit
Gamblers Farewell (Bakuto Kaisan-shiki) (1968) [Boss]: Stabbed to death by Kôji Tsuruta whom he also kills.
Heartless (Burai hijo) (1968) [Koga]: Stabbed to death by Tetsuya Watari.
Shoguns Joy of Torture (Tokugawa onna keibatsu-shi) (1968) [Ichinoshin Nanbara] Stabbed in the stomach by Asao Koike.
Sleepy Eyes of Death: Into the Spiders Lair (Nemuri Kyoshiro 11: Hito Hada Kumo) (1968) [Ikkan]: Cut down with a sword by Raizô Ichikawa.
The Assassin (Yakuza Deka: Marifana mitsubai soshiki) (1970) [Natsui - Takeshi] Dies when the boat he is in crashes into rocks. 
Bloodstained Clan Honor (Chi-zome no daimon) (1970) [Daimon]: Stabbed to death by Tatsuo Umemiya and Bunta Sugawara.
Female Convict Scorpion Jailhouse 41 (Joshuu sasori: Dai-41 zakkyo-bô) (1972) [Inspector Goda]: Stabbed to death by Meiko Kaji.
Lady Gambler (Showa onna bakuto) (1972) [Yakuza] Stabbed to death by Kyôko Enami.
Lone Wolf and Cub: Sword of Vengeance (Kozure ôkami: Ko wo kashi ude kashi tsukamatsuru) (1972) [Bizennokami Yagyû]: Sliced open by Tomisaburô Wakayama after a sword duel.
Internal Sleuth (Sakura no Daimon) (1973) [Yakuza]: Shot in face with shotgun blast by Tomisaburô Wakayama.
The Street Fighter (Gekitotsu! Satsujin ken) (1974) [Renzo Mutaguchi]: Beaten to death by Sonny Chiba.
Connections
Edit
Community content is available under
CC-BY-SA
unless otherwise noted.