House of the Dragon Trailer - The Loop
Play Sound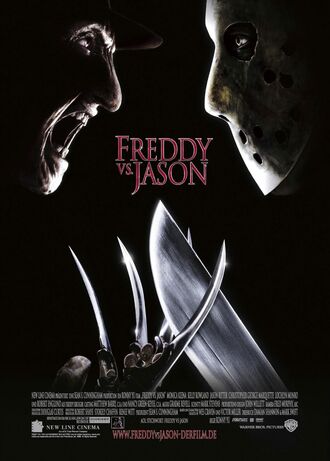 Freddy vs. Jason (2003)
Director: Ronny Yu
Note: this is the eleventh installment in the Friday the 13th franchise and the eighth installment in the Nightmare on Elm Street franchise.
Synopsis
[
]
Freddy Krueger and Jason Voorhees return to terrorize the teenage population. Except this time, they're out to get each other, too.
Male Deaths
[
]
Female Deaths
[
]
Trivia
[
]
This was the first Freddy movie not filmed in the United States, and the filmmakers had to search for a new house that would resemble the famous Freddy Krueger Elm Street house from the first seven "Nightmare" films.
The biggest problem that occurred on-set was a fight between Director Ronny Yu and Katharine Isabelle (Gibb), who had signed onto the film on the promise that she would not have to do nude scenes. During the shoot, Yu went back on this promise, and repeatedly tried to pressure her to get naked. (They eventually settled on using a body double.Tammy Morris replaced her as a body double for the scene. There was great friction between Isabelle and Yu for the rest of the shoot, because of this incident.)
Robert Englund was excited at the casting of Katharine Isabelle as "Gibb", as he was a big fan of her cult-film Ginger Snaps (2000), a Canadian werewolf film.
According to Director Ronny Yu, the special effects team used three hundred gallons of fake blood for the movie.
Standing at 6'5" (1.96 meters) tall, Ken Kirzinger is the tallest actor to date to play Jason Voorhees.
The final film in which Robert Englund plays the role of Freddy Krueger.His Freddy make-up was so thick that he couldn't tell how hot it was from the fires during filming. When he got in to have his make-up removed, it had bonded itself to his face.
The lake at Camp Crystal Lake was also being used to film the final scenes for X-Men 2(2003) at the same time this movie was being filmed. The two film casts even stayed at the same hotel.
At around twenty-seven minutes into the film,Evangeline Lilly can be spot as an extra. She is a girl in the crowd at the school wearing a green long-sleeved shirt.
(At around one hour and nineteen minutes) Screenwriters Mark Swift and Damian Shannon were disturbed by the homophobic insult Kelly Rowland's character directed at Freddy Krueger, and both writers pointed out in interviews that this was not something they had written in their script. Freddy's "how sweet, dark meat" line is a variation on the line "how sweet, fresh meat" in A Nightmare on Elm Street 4: The Dream Master (1988).
Rey Mysterio: As person who jumps.
The twenty-five million dollar budget of the film was the highest in Friday the 13th/Jason franchise.
Filming lasted fifty-three days.
Gallery
[
]
Posters
[
]