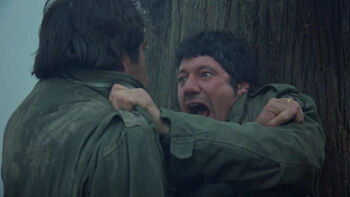 Fred Ward (1942 - )
Film Deaths
Edit
Escape from Alcatraz (1979) [John Anglin]: Possibly drowned, along with Jack Thibeau and Clint Eastwood (off-screen) during the escape. (The real John Anglin's body was never found, leaving it open to the possibility that he successfully escaped, but it's believed that he didn't make it.)
Southern Comfort (1981) [Cpl. Lonnie Reece]: Stabbed repeatedly in the neck and chest/stomach by Powers Boothe (at Brion James' urging) at the end of a fight in the swamp. His body is later seen tied to a tree when the other national guards discover him.
The Right Stuff (1983) [Gus Grissom]: Dies during a rocket launch (off screen) years after the story ends; his death is mentioned in Levon Helm's narration.
Off Limits (Saigon) (1988) [Dix]: Shot repeatedly in the chest and stomach with both a pistol and a machine gun by both Willem Dafoe & Gregory Hines (as Ward aims a gun at them) causing him to fall back through a stain glass church window. His body is later seen when Hines looks out to see him in a mock crucified pose on the marble floor.
The Naked Gun 33⅓: The Final Insult (1994) [Rocco Dillon]: Killed in an explosion, along with Raye Birk, when Fred is catapulted through the roof into Raye's helicopter (emerging from Raye's toilet) while holding onto his own bomb (Played for comic effect.)
The Chaos Factor (2000) [Max Camden]: Killed at the end of a fight/shooutout with Antonio Sabato, Jr.
The Crow: Salvation (2000) [The Captain]: Electrocuted (to the point that he bursts into flames) when an undead Eric Mabius straps him into an electric chair with Kirsten Dunst throwing the switch set to maximum high voltage (at this point in time Fred was wearing a metal mask)
TV Deaths:
Edit
10.5 (2004) [Roy Nolan: F.E.M.A Director]: Vaporized (off-screen) by a subterranean nuclear blast, on top of being pinned/crushed beneath a warhead following a tremor, he manages to reach the button and activate the nuke.
The Last Ride (2004) [Darryl Kurtz]: Killed in an explosion (along with Dennis Hopper) when Hopper drives his car off of a cliff and blows up.
Community content is available under
CC-BY-SA
unless otherwise noted.