Wiki Targeted (Entertainment)
Play Sound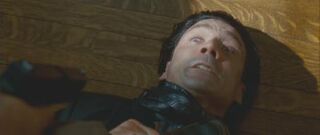 Frank Grillo (1965 - )
The Grey (2011) [John Diaz]: Mauled to death off-screen by wolves; He was last seen sitting by the river and waiting as the wolves are heard approaching.
Gangster Squad (2013) [Russo]: Ripped in half due to his arms and legs being tied to two cars that drive in opposite directions, after Sean Penn gives the order. His corpse is eaten by coyotes.
Homefront (2013) [Cyrus Hanks]: Stabbed repeatedly in the chest and stomach with his own blades after having been slashed in the face with broken glass by Jason Statham at the end of a struggle.
Wolf Warrior II (2017) [Big Daddy]:
Stephanie (2017) [Man/Dad]: Stabbed in the back by Shree Crooks, who then uses her psychic powers to slide the knife up his back.
Hell on the Border (2019) [Bob Dozier]: Shot to death by David Gyasi.
Boss Level (2021) [Roy Pulver]: As someone stuck in a time loop, he dies in a multitude of different ways only to be revived when the day resets. This includes instances where he is run over by a truck, killed when his car rams into a bus, shot in the head by Meadow Williams, decapitated by Selina Lo, blown up by Aaron Beelner, blown up with rockets by Quinton "Rampage" Jackson and Rashad Evans, machine gunned from a helicopter by Rob Gronkowski, shot through the heart with a harpoon by Michael Tourek, shot to death while shielding his son (Rio Grillo) from bullets, shoots himself in the head to reset the day, shot and stabbed several to death several times by Buster Reeves and decapitated by Mel Gibson. He is ultimately killed for good when he sacrifices himself to destroy the machine that created the time loop.
Cosmic Sin (2021) [General Ryle]: Commits Suicide
Guiding Light (March 1, 1999) [Hart Jessup]: Dies of cardiac arrest after being shot in the back by Wendy Moniz.
Community content is available under
CC-BY-SA
unless otherwise noted.