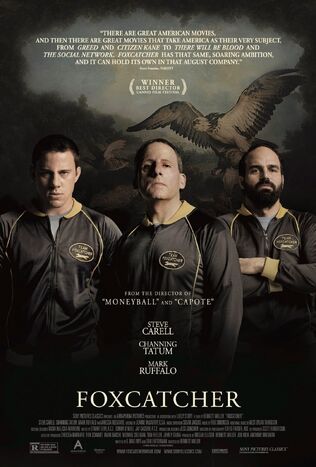 Foxcatcher (2014)
Director: Bennett Miller
The greatest Olympic Wrestling Champion brother team joins Team Foxcatcher led by multimillionaire sponsor John E. du Pont as they train for the 1988 games in Seoul - a union that leads to unlikely circumstances.
The screenplay for this film was featured in the 2008 Blacklist; a list of the "most liked" unmade scripts of the year.
Steve Carell claimed that, according to Director Bennett Miller's wishes, there was no joking between takes, and he did not socialize with the co-stars after work.
In the mirror bashing scene, Channing Tatum broke the mirror, which was not in the script. He got so into his role, that it led him to act with such intensity. The cut to his forehead was genuine.
According to Channing Tatum, he and Mark Ruffalo spent an intensive five to six months training for wrestling, which took its toll on the actors. During one particularly physical take, Channing insisted to Ruffalo "to just slap the shit out of me and get it over with", which resulted in Channing's eardrum accidentally getting popped. The take is in the film.
Mark Ruffalo said the cast and crew were so afraid of Steve Carell as du Pont, that they tried to avoid interacting with him. Ruffalo said, "Everyone sort of stayed away from him. John du Pont was repellent, so the way they designed Steve's look, it made him repellent, and you didn't know what to say to him, or how to act around him. You never felt comfortable."
Community content is available under
CC-BY-SA
unless otherwise noted.