Flatliners (2017) directed by Niels Arden Oplev and written by Ben Ripley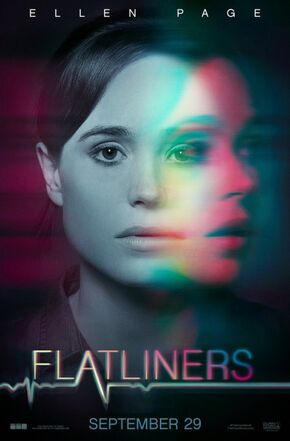 Secretly headed up by bereaved junior doctor Courtney Holmes (Ellen Page), a group of medical students, Marlo (Nina Dobrev), Sophie (Kiersey Clemons) and Jamie (James Norton) set out to study whether a hereafter exists by inducing covert an illegal NDES, overseen by Ray (Diego Luna). But soon after they each come back all of them discover something otherworldly has individually come back with them, manifesting as lost souls of those who died because of mistakes they made, such as a former patient (Miguel Anthony) and a deceased relative (Madison Brydges). As these so called hauntings become ever more disturbingly violent, those remaining must find away to stop this paranormal events happening to them, before fate over takes them.
The film is a mix of sequel and reboot/remake of the 1990 film of the same name
It was announced that Kiefer Sutherland, who starred in the original, would be returning for the new film. Sutherland later disclosed that he was reprising his role from the original film, revealing that the new film would actually be a sequel rather than a remake. Sutherland was announced to be reprising his role as Nelson Wright, but his role as the character was cut, instead appearing as a different character in the finished film.
Male Deaths
Edit
Female Deaths
Edit
Community content is available under
CC-BY-SA
unless otherwise noted.