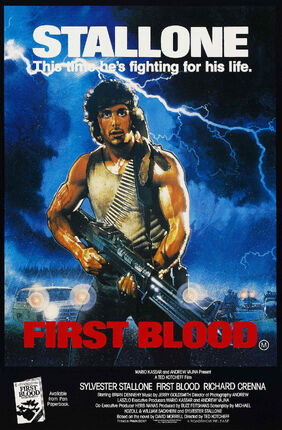 First Blood (1982)
a.k.a. "Rambo: First Blood"
Directed by Ted Kotcheff
Male deaths
Edit
Female deaths
Edit
First Blood (1982) was Stallone's first non-Rocky movie which didn't bomb.
Al Pacino was considered for the role of John Rambo, but turned it down when his request that Rambo be more of a madman was rejected.
The movie takes place in the fictitious town of Hope, Washington. However much of the movie was filmed in the real town of Hope, British Columbia.
Stallone accidentally broke the nose of Alf Humphreys (Lester) during the jail escape scene by elbowing him in the face, which is why he is seen wearing a band-aid throughout the rest of the film. Coincidentally, this is what Rambo does to a policeman in the novel during the exact same scene.
Sylvester Stallone hated the first cut of the film so much that he tried to buy the film back and destroy it. When he couldn't do that, he suggested that the producers cut much of his part and let the rest of the characters tell the story. That cut the movie time in half and set a precedent for future action movies.
Community content is available under
CC-BY-SA
unless otherwise noted.