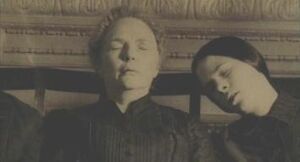 Fionnula Flanagan (1941 - )
Film Deaths:
Edit
The Others (2001) [Mrs. Bertha Mills]: Dies of tuberculosis (off-screen) many years before the story takes place; her body is shown (along with those of Elaine Cassidy and Eric Sykes) in a vintage photograph that Nicole Kidman discovers, causing her to realize that Fionnula, Elaine and Eric are ghosts.
Tears of the Sun (2003) [Sister Grace]: Killed (off-screen) when soldiers attack the mission; we see the aftermath of the massacre when Bruce Willis' helicopter passes overhead, though we don't see any specific characters' bodies among the carnage. (Thanks to Robert)
Blessed (2004) [J. Lloyd Samuel]: Killed, though I don't know the details. (Thanks to Andrea)
Four Brothers (2005) [Evelyn Mercer]: Shot to death (off-camera) by hitmen in a convenience store, making it look like a robbery. We only hear the gunfire over an exterior shot of the building (we later see the events leading up to the shooting as Mark Wahlberg and his other foster brothers watch the CCTV footage). (Thanks to Robert)
The Invention of Lying (2009) [Martha Bellison]: Dies of a heart attack in the hospital, while her son (Ricky Gervais) lies to her about the afterlife. (Thanks to Tommy)
The Guard (2011) [Eileen Boyle]: Dies (off-screen) of cancer; her death is revealed by a scene of her son (Brendan Gleeson) cleaning out her room. (Thanks to Tommy)
TV Deaths:
Edit
Columbo: Murder, a Self Portrait (1989) [Louise Barsini]: Drowned when Patrick Bauchau puts her in the ocean after knocking her unconscious on the beach. Her body is later seen lying on a stretcher after it is fished out of the ocean. (Thanks to Big O)
Star Trek: The Next Generation: Inheritance (1993) [Dr. Juliana Tainer]: Killed by the Crystalline Entity several years before the story begins; she appears in the episode as an android duplicate.
Defiance: The Bride Wore Black (2013) [Nicky Riorday]: Killed via lethal injection by Trenna Keating.
Community content is available under
CC-BY-SA
unless otherwise noted.