Wiki Targeted (Entertainment)
Play Sound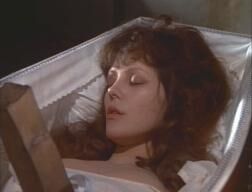 Fiona Lewis (1946 - )
The Fearless Vampire Killers or Pardon Me, But Your Teeth Are in My Neck (1967) [Magda, the Maid]: Bitten on the throat and drained of blood (off-screen) by Alfie Bass in Ferdy Mayne's castle; her body is shown afterwards when Alfie realizes that he's drunk too much. He then carries her body out to a coffin and gets in with her. (Thanks to PortsGuy)
Dracula (1973) [Lucy Westenra]: Bitten on the throat and drained of blood by Jack Palance. She later returns as a vampire and is stabbed in the chest by a wooden stake by Nigel Davenport as she's lying in her coffin.
Tintorera (Tintorera...Bloody Waters; Tintorera...The Silent Death; Tintorera...Tiger Shark) (1977) [Patricia]: Eaten by a shark (Nudity alert: Front and Rear). (Thanks to Pendstar and The Bare Facts Video Guide)
The Fury (1978) [Dr. Susan Charles]: Bleeds to death when Andrew Stevens uses his telekinetic powers on her, simultaneously levitating her and rapidly spinning her around. Her body is shown afterwards when Kirk Douglas disocvers her (There is also a brief glimpse of her body earlier when Amy Irving has a physic vision of the future.) (Thanks to Pendstar)
Hart to Hart: Murder Wrap (1981) [Melisa Hilburn]: Strangled (off-camera) by John McMartin while he's disguised as a mummy. Her body is shown again afterwards when Robert Wagner discovers her in the museum's storage area. (Thanks to PortsGuy)
Alfred Hitchcock Presents: The Jar (1986) [Erica]: Killed by her husband ( Griffin Dunne) during a struggle, Fiona's severed head is later put into a jar and displayed as an artwork by Griffin.
Community content is available under
CC-BY-SA
unless otherwise noted.