House of the Dragon Trailer - The Loop
Play Sound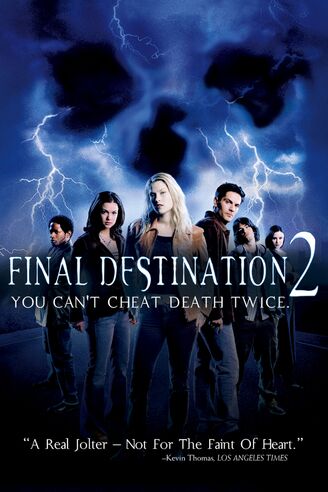 Final Destination 2 (2003)
Director: David R. Ellis
Synopsis
[
]
When Kimberly has a violent premonition of a highway pileup she blocks the freeway, keeping a few others meant to die, safe. Or are they? The survivors mysteriously start dying and it's up to Kimberly to stop it before she's next.
Male Deaths:
[
]
Female Deaths:
[
]
Trivia 
[
]
Keegan Connor Tracy who plays Kat was cast just 5 days before filming.
Real logs were tested for the crash sequence, but they "didn't bounce enough", so in the film the logs are CGI.
The character of Tim was supposed to be nine and then thirteen but New Line decided it wasn't okay to kill off a little kid so they eventually settled on the age of fifteen.
The accident on the highway was based on the 125 car pileup on Interstate 75 in Ringgold, Georgia, on March 14, 2002.
Gallery
[
]