Wiki Targeted (Entertainment)
Play Sound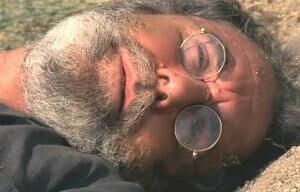 Fernando Rey (1917 - 1994)
Film Deaths
[
]
The Last Days of Pompeii (Gli Ultimi giorni di Pompei) (1959) [Arbaces, High Priest]: Crushed to death when a statue of Isis falls on him. (Thanks to Andrea)
Revolt of the Slaves (La rivolta degli schiavi) (1960) [Valerio] Eaten by rabid dogs after being knocked into their pit by Serge Gainsbourg.
Navajo Joe (1966) [Rev. Rattigan]: Shot in the chest by Aldo Sambrell after he thanks Aldo for sparing his life. 

Chimes at Midnight (1965)

[Earl of Worcester]: Executed by hanging (off screen) after being sentenced to death for treason and rebellion by John Gielgud.
The Price Of Power (Il Prezzo Del Potere) (1969) [Pinkerton]:Shot in the chest at point blank range by Michael Harvey after being forced to hand over documents. (Thanks to Brian) 
Companeros (Vamos a matar, companeros!) (1970) [Professor Xantos]: Shot in the chest by Jack Palance, after Fernando rushes out into the street with an unloaded gun as a distraction when Jack is about to shoot Tomas Milian.
Cold Eyes of Fear (Gli Occhi freddi della paura) (1971) [Judge Bedell]:While he survives the film, there is a day dream/fantasy that Frank Wolff has, where he opens a door setting off an explosive blowing him up.
The Light at the Edge of the World (1971) [Captain Moriz]: Stabbed to death by Yul Brynner's pirates, while Kirk Douglas looks on helplessly from the lighthouse. (Thanks to Johan)
The Discreet Charm of the Bourgeoisie (La Charme discret de la bourgeoisie) (1972) [Don Rafael Acosta]: Machine-gunned, along with the rest of his friends, by a group of revolutionaries who invade their dinner party. This turns out to be a dream sequence, but so does everything else in the movie.
Violent Blood Bath (Pena de muerte) (1974) [Oscar Bataille] Stabs himself with a pair of scissors.
Seven Beauties (Pasqualino Settebellezze) (1975) [Pedro, the Anarchist]: Machine-gunned by Nazi guards after he makes a break for it and dives into the latrine in the concentration camp; we only see the guards firing into the latrine after Fernando disappears beneath the filthy water.
That Obscure Object of Desire (Cet obscur objet du désir) (1977) [Mathieu]: Killed in an explosion, along with Ángela Molina, when a bomb goes off in the mall. (The character of "Conchita" was played by both Carole Bouquet and Ángela, randomly alternating in different scenes; Angela appeared in the final scene.)
TV Deaths
[
]
None known.
Noteworthy Connections:
[
]