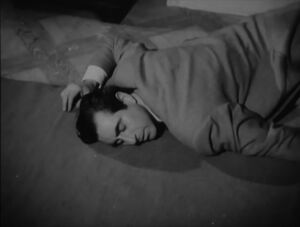 Ferdy Mayne (1916 - 1998)
a.k.a. Ferdinand Mayne
The Broken Horseshoe (1953) [Charles Constance]: Robert Beatty comes home to his flat and finds Mayne lying on the floor with a broken neck, having been killed by Roger Delgado. (Thanks to Brian)
Cross-Roads (1955) [Bernard J Maskell]: Dies of a presumed cardiac arrest afer being terrified by the ghostly Christopher Lee whom he shoots 5 times to no effect. (Thanks to Brian)
The Narrowing Circle (1956) [Bill Strayte]: Killed offscreen, method not disclosed, by Russell Napier, who moves the body to Paul Carpenter's flat so Paul might be framed. (Thanks to Brian)
You Pay Your Money (1957) [Delal]: Shot by Hugh McDermott as they fire at each other outside the room where Hugh's wife, the kidnapped Honor Blackman, is lying. (Thanks to Brian)
Where Eagles Dare (1968) [General Rosemeyer]: Shot in the chest by Clint Eastwood as Ferdy is drawing a gun on Clint. (Thanks to Brian)
Pirates (1986) [Captain Linares] Dies of sickness in bed.
Knight Moves (1992) [Jeremy Edmonds]: Killed (off-screen) by Charles Bailey-Gates; his body is shown afterwards as the police investigate.
Overseas Press Club - Exclusive!: My Favourite Kidnapper (1967) [Major Vogel]: Executed offscreen by the Nazis after his failed coup to surrender Munich to the US forces. (Thanks to Brian)
Community content is available under
CC-BY-SA
unless otherwise noted.