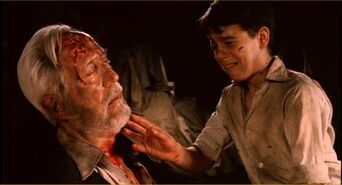 Federico Luppi (1936 - 2017)
Film Deaths
Edit
El Romance del Aniceto y la Francisca (1967) [Aniceto]: Shot to death by the man who he sold his rooster earlier when he broke into his home to recover it.
Últimos Días de la Victima (Last Days of the Victim) (1982) [Raúl Mendizábal]: Shot to death by Arturo Maly.
Cocaine Wars (La Muerte Blanca) (1985) [Gonzalo Reyes]: Dies in an explosion of a cocaine lab after a fight with John Schneider.
Cronos (1993) [Jesús Gris]: Killed when Ron Perlman pushes the car he is in over a cliff under the orders of Ron's uncle (Claudio Brook); he is later brought back to life in the morgue due to having interacted with the mystical scarab device beforehand. He then presumably dies (off-screen) soon after the film ends, having destroyed the scarab device and his dependency on it earlier; we last see him dying in bed with his wife (Margarita Isabel) and granddaughter (Tamara Shanath) by his side.
El Espinazo del Diablo (The Devil's Backbone) (2001) [Dr. Casares]: Dies from injuries sustained in a car explosion caused by Eduardo Noriega. He dies sometime later while waiting, gun drawn, for Noriega to return, with his body later seen as Fernando Tielve and Íñigo Garcés discover Noriega breaking his fingers to get the rifle, then again as a tearful Tielve places said rifle in his hands. He appears briefly as a ghost to Adrián Lamana/Javier Bódalo/Javier González Sánchez as he frees the surviving orphans, then again at the movie's end observing the orphan survivors leaving the orphanage to look for help.
El Laberinto del Fauno (Pan's Labyrinth) (2006) [King (Ofelia's father)]: Dies (off-screen), some time before the movie begins; he appears as a spirit when his daughter Ivana Baquero arrives in the magical realm after her own death. (The movie leaves it up to the viewer's interpretation as to whether the magical elements really exist or whether they're only in Ivana's imagination.)
Cara de Queso - Mi Primer Ghetto (Cheese Head) (2006) [Sr. Guerchuni]: Dies from a heart attack.
Al Final del Tunel (At the End of the Tunnel) (2016) [Guttman]: Poisoned after accidentally ate poisoned cookies prepared to put down a dog.
Notable Connections
Edit
Community content is available under
CC-BY-SA
unless otherwise noted.