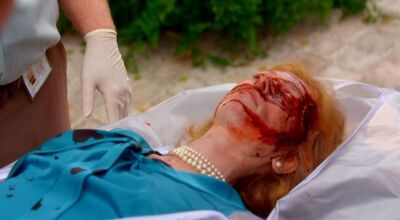 Fay Masterson (1974 - )
Film Deaths
[
]
The Power of One (1992) [Maria]: Bludgeoned to death with a baton by a police officer when she runs in front of Stephen Dorff to protect him.
Dark and Stormy Night (2009) [Sabasha Fanmoore]: Commits suicide by strangling herself rather than be arrested. (Played for comic effect.
Vice (2018) [Edna Vincent]: Dies off-screen from drowning, although it's implied that Shea Whigham killed her; her death is revealed through Jesse Plemons' narration.
TV Deaths
[
]
Video Game Deaths
[
]
Dragon Age: Origins (2009) [Kaitlyn/Oriana Cousland]: "Kaitlyn" is killed and turned by the undead and then killed by the player characters, should the player choose to abandon Redcliffe; "Oriana" is killed (off-screen) alongside her son (Deo Simcox) by Tim Curry's men.
Mass Effect 3 (2012) [Dr. Ann Bryson]: Dies from the strain of being possessed by Anthony Skordi, if the player stops Freddie Prinze Jr. from helping her; she can also die in two of the game' a endings; (Destroy) she is killed, alongside the rest of the surviving cast, when the Reapers are destroyed, if not enough war assets are acquired; (Refusal) she is harvested, alongside all sentient life in the galaxy, by the Reapers.