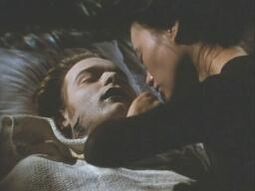 Ewan McGregor (1971 - )
Film Deaths
The Pillow Book (1996) [Jerome]: Commits suicide by taking an overdose of pills in his apartment; his body is later discovered by Vivian Wu, who writes "The Book of the Lover" in Japanese calligraphy on his body. His body is shown again later on after Yoshi Oida's employees acquire his body and skin him so that Yoshi can have the "book." (Nudity alert: Full frontal)
The Island (2005) [Lincoln Six Echo / Tom Lincoln]: Playing a dual role as the clone "Lincoln Six Echo" and the original "Tom Lincoln," "Tom" is shot in the chest by Djimon Hounsou, after the clone puts his ID bracelet on "Tom" so the original would be mistaken for the clone. His body is shown in the morgue later on when the doctors discover the switch. (The clone survives the movie.)
Stormbreaker (Alex Rider: Operation Stormbreaker) (2006) [Ian Rider]: Shot repeatedly (off-camera) by Damian Lewis while Damian is hanging upside-down from a helicopter alongside Ewan's car; we only see Damian firing.
Angels and Demons (2009) [Camerlengo Patrick McKenna]: Commits suicide by setting himself on fire after his part in the conspiracy is exposed.
The Ghost Writer (2010) [The Ghost]: Hit by a car (off camera) as he exits the party for Pierce Brosnan's book; the last shot of the film has Ewan walking off camera, the car accelerating and then shows pages of the manuscript he was carrying flying in the wind. (Whether or not the car was sent by Tom Wilkinson after McGregor revealed to Olivia Williams that he knew her secret is never revealed).
Haywire (2011) [Kenneth]: Drowns (off-screen) after Gina Carano leaves him trapped within rocks (after he gets his foot jammed between two of them following a struggle) on the beach just as the tide is coming in; the scene ends as the tide starts to come in.
Jane Got a Gun (2016) [John Bishop]: Shot in the face (off-camera) by Natalie Portman after having already been shot repeatedly by her as she tries to get Ewan to reveal where her daughter is; we only see Natalie fire into camera, and we later see his body in the back of a cart.
Beauty and the Beast (2017) [Lumiere]: Playing a human turned into an anthropomorphic candelabra, Ewan becomes inanimate due to the curse taking full effect when the last rose petal falls. He is resurrected in human form when Hattie Morahan undoes the curse.
Christopher Robin (2018) [Christopher Robin]: In a dream sequence, he drowns before he is eaten by an elephant-based Heffalump while Pooh (Jim Cummings) talks Ewan out of it. (He survives in reality.)
Doctor Sleep (2019) [Danny Torrance]: Burns to death (off screen) when a fire is started in a boiler room and gas is released, after being possessed and trying to find/kill Kyleigh Curran's character and searches in the room only to get trapped by surrounding fire. We're initially led to believe that Ewan escape the fire when Kyleigh is seen talking to him, however his fate is confirmed when he sooner disappear after talking to Kyleigh who was hallucinating at the time.
TV Deaths
Fargo: The Lord of No Mercy (2017)  [Ray Stussy]: Accidentally stabbed in the throat with a piece of broken glass when his older brother (Ewan McGregor) slams a glass platted stamp into his face. 
Fargo: Somebody to Love (2017) [Emmit Stussy]: Shot in the back of the head by Russell Harvard as Ewan looks at photos of his family. 
Notable Connections
Gallery
Community content is available under
CC-BY-SA
unless otherwise noted.