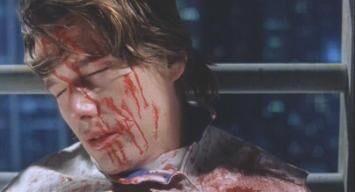 Ethan Hawke (1970 - )
One Last Thing... (2005) [Earl Jameison]: Dies (off-screen) of emphysema, several years before the story begins. He only appears in a video recording he made for his son (Michael Angarano) before his own death, as an imaginary vision who appears to Michael, and finally in the afterlife after Michael's own death.
Sinister (2012) [Ellison Oswalt]: Decapitated by his possessed daughter (Clare Foley); the film cuts just as Foley is about to bring an axe down on Ethan's throat.
The Purge (2013) [James Sandin]: Stabbed in the stomach by Rhys Wakefield; he dies while talking to his family.
Predestination (2014) [The Barkeep]: Shot in the future by a past version of himself that had time travelled. (Due to the nature of the film's twist revealing both Hawke and Sarah Snook are the same character, both actors deserve credit for the death)
Moby Dick (2011 TV mini-series) [Starbuck]: Drowns when the Pequod sinks after the whale rammed into it.
The Good Lord Bird: Last Words (2020) [John Brown]: Hanged (off-screen) for his role in the raid on Harper's Ferry.
Community content is available under
CC-BY-SA
unless otherwise noted.