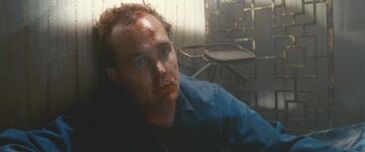 Ethan Embry (1978 - )
Disturbing Behavior (1998) [Allen Clark]: Commits suicide (off-screen) by shooting himself in the head, several months before the story begins; Ethan only appears in flashbacks and nightmare sequences, and the details of his death are revealed when James Marsden tells Katie Holmes about it.
They (2002) [Sam Burnside]: Killed by They (presumably meant to be demons or monsters) after being pulled into an elevator shaft. (One of the deleted scenes shows his body afterwards when he's thrown out of a window and lands on Laura Regan.) (Thanks to Noah and ND)
Vacancy (2007) [Mechanic]: Hit by a car (pinning him against the wall) by Kate Beckinsale (Ethan was wearing a mask during the time, with his identity established when it falls off before collapsing onto the car front). (Thanks to ND)
The Kane Files: Life of Trial (2010) [Jace Olsen]: Shot in the back by Whitney Able as Ethan is about to shoot Drew Fuller (having been earlier injured in a car crash), he dies while crawling to his shotgun (before Drew moves it out of reach). His body is later seen when William Devane arrives with other cops.
Brother of Aaron Embry and Kessia Randall.
Community content is available under
CC-BY-SA
unless otherwise noted.