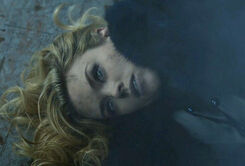 Erin Richards (1986 - )
Misfits: Episode 5.7 (2013) [Sarah]: Hits her head on the corner of a wall, after a falling ceiling light startles her and causes her to slip on a banana peel that Matt Stokoe had thrown at her, in his attempt to take advantage of her power to cause accidents.
Crossing Lines: The Terminator (2013) [Nicole Ryan]: Commits suicide by drinking wine poisoned with radioactive polonium when cornered by the police; she is last seen collapsing in the surrounding detectives' arms after ingesting the poison.
Gotham: Heavydirtysoul (2017) [Barbara Kean]: Electrocuted at the end of a fight with Jessica Lucas when Jessica uses her whip to knock over electrical lights into a puddle Erin is standing in when Erin has a gun on her. She is later brought back to life and is next seen in the episode The Fear Reaper.
Gotham: To Our Deaths and Beyond (2018) [Barbara Kean]: Stabbed through the back by Alexander Siddig. She brought back to life moments later thanks to her Demon's Head powers.
Community content is available under
CC-BY-SA
unless otherwise noted.