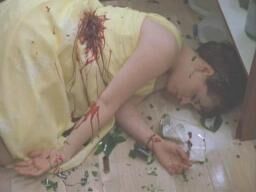 Emily Hampshire (1981 - )
The Life Before This (1999) [Margaret]: Shot in the side (off-camera) in the crossfire of a shoot-out between David Hewlett and Joel Keller in a cafe; her body is shown lying behind the counter afterwards. (After this opening scene, the movie "rewinds" to the start of the day, leading up to an alternate outcome; in this second version, Emily gets Sarah Polley to cover her shift, so Sarah dies instead.) (Thanks to Tal)
Snow Cake (2006) [Vivienne Freeman]: Killed in a car accident when a truck hits the car she is riding in with Alan Rickman (who survives the accident). (Thanks to Graeme)
The Cradle (2007) [Julie]: Either accidentally falls or deliberately jumps over a waterfall. The film is unclear about the outcome.
Happy Face Murders (1999; TV film) [Tracy Billings]: Beaten to death and throat crushed (off-screen) by Rick Peters in a hotel room. Her body is shown lying in a field early in the movie when Marg Helgenberger and Henry Thomas investigate, then again later on in the morgue. The murder itself is shown in a later flashback. (We only see the start of the assault, at which point the movie cuts to Rick telling his story to Marg and Henry; her body is shown lying on the floor when the flashback resumes.) Additionally, another version of her death is shown in a "fictitious flashback" when Ann-Margret falsely confesses to strangling Emily with a rope while Nicholas Campbell beats up Emily. (Nudity alert: Full frontal and rear; however, all scenes involving nudity were actually done by body double Stacey Ziegler.)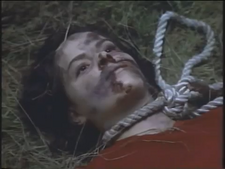 Community content is available under
CC-BY-SA
unless otherwise noted.