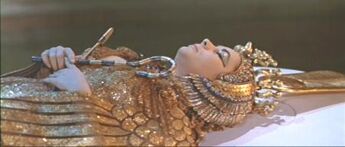 Elizabeth Taylor (1932 - 2011)
Jane Eyre (1944) [Helen Burns]: Dies of pneumonia after she and Peggy Ann Garner are forced to stand outside in the rain as punishment in school. (Thanks to Pat)
The Last Time I Saw Paris (1954) [Helen Ellsworth Wills]: Dies of pneumonia in the hospital. (Thanks to Pat)
Raintree County (1957) [Susanna Drake]: Drowned (off-screen) after wandering off into the swamp in her madness; her body is shown afterwards when Montgomery Clift and the rest of the search party discover her.
BUtterfield 8 (1960) [Gloria Wandrous]: Killed in a car accident while trying to get away from Laurence Harvey. We only see the car during the impact; her body is not shown afterwards.
Cleopatra (1963) [Cleopatra]: Commits suicide (off-screen) by letting an asp bite her on the wrist. Her body is shown afterwards (along with those of Francesca Annis and Isabel Cooley) lying in her chamber when Roddy McDowall and Andrew Keir discovers them.
Boom (1968) [Flora 'Sissy' Goforth]: Dies of tuberculosis, with Richard Burton by her bedside.
The Driver's Seat (Identikit; Psychotic) (1974) [Lise]: Stabbed to death by Guido Mannari in an abandoned park, after she goads him into doing so. (Thanks to Matt)
The Mirror Crack'd (1980) [Marina Rudd]: Apparently commits suicide (off-screen), presumably by poison or drug overdose. Her body is shown afterwards when Angela Lansbury and Rock Hudson discover her lying on the couch. It is clearly implied however that she was killed by Rock, her husband, who has realised she is a double murderess and wants to spare her an arrest, trial and probable execution.
Community content is available under
CC-BY-SA
unless otherwise noted.