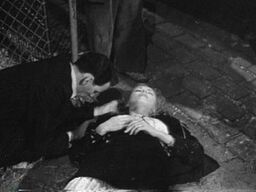 Eleanor Parker (1922 - 2013)
Film Deaths
Edit
Between Two Worlds (1944) [Ann Bergner]: Commits suicide, along with Paul Henreid, by turning on the gas stove in their home. The rest of the movie takes place in a boat carrying them and other "passengers" to the afterlife; Eleanor and Paul are eventually given another chance and wake up back in the room with the gas dissipated through a broken window.
Of Human Bondage (1946) [Mildred Rogers]: Dies of syphilis. (See also Bette Davis in the 1934 version and Kim Novak in the 1964 version.)
The Woman in White (1948) [Laura Fairlie/Ann Catherick]: Playing a dual role, "Ann" dies of a heart attack from fright when Sydney Greenstreet menaces her. Sydney then holds "Laura" captive and uses Ann's body to convince everyone that Laura is dead. (Laura survives the movie.) (Thanks to Constantine)
The Man with the Golden Arm (1955) [Zosch Machine]: Commits suicide by jumping off a fire escape while being chased by police; she dies shortly after Frank Sinatra rushes to the street and kneels beside her.
An American Dream (1966) [Deborah Kelly Rojack]: Knocked over a balcony at the end of a struggle with Stuart Whitman; her body is run over by a car after she lands in the street.
How to Steal the World (1968) [Margitta]: Shot by Leslie Nielsen. (This was a theatrically-released feature edited together from the two-part Man from UNCLE episode The Seven Wonders of the World Affair.)
TV Deaths
Edit
Notable Connections
Edit
Ex-Mrs. Bert E. Friedlob (producer)
Community content is available under
CC-BY-SA
unless otherwise noted.