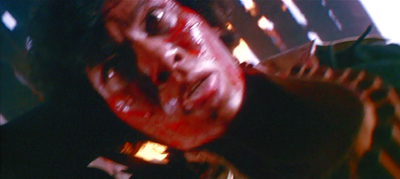 Eiji Go (1937 - 1992)
Film Deaths
Edit
The Warped Ones (Kyonetsu no kisetsu) (1960) [Masru] Dies of his stab wounds after making it back to his apartment.
Danger Pays (Yabai koto nara zeni ni naru) (1962) [Gangster] Shot to death by Jô Shishido
Youth of the Beast (Yajû no seishun) (1963) [Shigeru Takechi]: Shot to death.
Murder Unincorporated (Toba no mesu neko: Sha Kiba no shobu) (1965) [Gangster] Shot in the back by Jô Shishido
Retaliation (Shima wa moratta) (1968) [Nakatsu]: Stabbed with a knife and sword by rival gangsters.
Kill! (Burai barase!) (1969) [Yakuza] Stabbed through the back in a yakuza brawl.
Stray Cat: Beat ' 71 (Nora-neko rokku: Bôsô shudan '71) (1971) [Soto]: Dies when Yoshio Harada blows himself up with dynamite in order to kill Eiji.
The Yakuza (1974) [Spider]: Stabbed in the back with a sword by Ken Takakura.
Zero Woman: Red Handcuffs (Zeroka no onna: Akai wappa) (1974) [Yoshihide Nakahara]: Hung with handcuffs by Miki Sugimoto.
The Bodyguard (Karate Kiba) (1976) [Gangster]: Beaten to death by Sonny Chiba.
New Battles Without Honor 3: Boss's Last Days (Shin jingi naki tatakai, Kumicho saigo no hi) (1976) [Joe]: Shot to death by a rival gangster after Eiji goes to kill him.
Connections
Edit
Community content is available under
CC-BY-SA
unless otherwise noted.