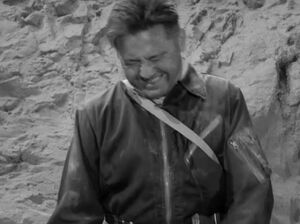 Edward Binns (1916 - 1990)
A.K.A. Ed Binns
Film Deaths
Fail-Safe (1964) [Colonel Jack Grady]: Killed in a nuclear explosion, along with his crew, when they destroy Moscow.
Night Moves (1975) [Joey Ziegler]: Drowned when his seaplane shatters and submerges into the ocean after he hits a surfaced stone sculpture while sea-landing, killing Jennifer Warren at the same time, while Gene Hackman watches helplessly from his boat.
TV Deaths
One Step Beyond: Vanishing Point (1960) [Fred Graham]: Ceases to exist (off-screen) when he decides that he has nothing left to live for (as the haunted house causes his wish to come true), after he realizes that no one will believe that the house can cause people to vanish. He is last seen walking up a flight of stairs as Fredd Wayne finishes telling the story to John Newland.
The Twilight Zone: I Shot an Arrow Into the Air (1960) [Colonel Donolin]: Shot by Dewey Martin in the desert, in order to steal Edward's water (the bullet goes through his canteen, however).
The F.B.I.: The Tunnel (1968) [Billy Hollis]: Killed in an explosion in the tunnel, when he throws two vials of nitroglycerine.