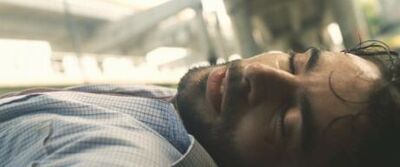 Eduardo Noriega (1973 - )
Not to be confused with Mexican actor Eduardo Noriega (1916 - 2007)
Luna (1995) (short) [Alberto]: Shot to death by Nieves Herranz as he tries to wrestle away the gun from her (off-screen), we only hear the gunshots.
Tesis (1996) [Bosco Herranz]:Shot in self-defense by Ana Torrent as he prepares to torture and kill her.
Open Your Eyes (Abre los ojos) (1997) [Cesar]: Commits suicide (off-screen) by taking a drug overdose; he discovers towards the end of the movie that he has been cryogenically frozen since his death, and that everything he's been experiencing has only been in his own mind while he's being revived. (See also Tom Cruise in the 2001 remake Vanilla Sky.)
Plata Quemada (Burnt Money) (2000) [Ángel]: Shot by the police (off-screen), the screen turns black as we hear the gunshots.
The Devil's Backbone (El Espinazo del diablo) (2001) [Jacinto]: Drowned in a pool of water when Junio Valverde's ghost pulls him down, on top of having been stabbed in the chest, stomach and limbs with makeshift spears by some of the surviving orphans (including Inigo Garces, Fernando Tielve and Daniel Esparza) who then shove him into said pool (as he goes to shoot at them).
Transsiberian (2008) [Carlos]: Beaten to death with a wooden plank by Emily Mortimer after Eduardo makes sexual advances towards her; his body is shown again later on when Kate Mara discovers him. (Thanks to Nilescu, Matthew, and Tommy)
Blackthorn (2011) [Ing. Eduardo Apodaca]: Shot numerous times off-screen by the peasants after being shot in the leg by Sam Shepard and left behind. His body is later shown.
None.
Community content is available under
CC-BY-SA
unless otherwise noted.