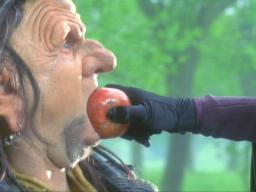 Ed O'Neill (1946 - )
Film Deaths
Edit
None Known.
Deaths in Television
Edit
Married... with Children: Buck Can Do It (1987) [Al Bundy]: Killed by two homicidal maniacs one based on Leatherface from The Texas Chainsaw Massacre, the other based on Jason Vorhees from Friday the 13th after Buck the Dog Derek McGrath refuses to attack them due to Ed having him neutered. This turns out to be a dream sequence and Ed survives the episode. (Played for comic effect.)
Married... with Children: Desperately Seeking Miss October (1989) [Al Bundy/Al's Father]: "Al's Father" appears as a ghost to "Al". (Played for comic effect.)
Married with Children: Damn Bundys (1997) [Al Bundy]: Dies and goes to Hell after making a deal with the devil Robert Englund. Ed is killed by football players that tackle him after Robert takes away his athletic ability due to Ed going back on the deal and attempting to play in the Superbowl. He comes back to life, alongside his family, when he tricks Robert into sending him back to Earth.
The 10th Kingdom (2000 mini-series) [Relish the Troll King]: Poisoned along with the rest of his troll army after eating apples that had been enchanted by Dianne Wiest; Dianne shoves another apple into his mouth to shut him up as he dies. 
The Unit: Silver Star (2006) [William Partch]: Crashes his plane when his radar goes off-line and the Delta Force command center struggle to pinpoint him in the right direction.
Community content is available under
CC-BY-SA
unless otherwise noted.