Wiki Targeted (Entertainment)
Play Sound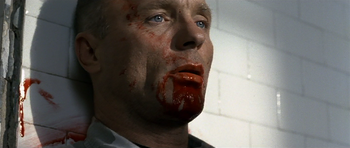 Ed Harris (1950 - )
Borderline (1980) [Hotchkiss]: Shot repeatedly by Charles Bronson after Harris turns to fire after a lengthy chase.
Knightriders (1981) [Billy]: Hit by a truck while riding on his motorcycle. (Thanks to Aaron and Paul)
Creepshow (1982) [Hank Blaine]: Crushed to death when a zombie drops a tombstone on him, after he falls into the zombie's open grave and discovers Viveca Lindfors' body lying in it.
Just Cause (1995) [Blair Sullivan]: Executed in the electric chair. (Thanks to Vlabor)
Pollock (2000) [Jackson Pollock]: Killed in a car crash while driving drunk. We only see the car go off the road; his body is not shown afterwards.
Cleaner (2007) [Eddie Lorenzo]: Shot in the head by Keke Palmer, just as Harris is about to shoot her father (Samuel L. Jackson). After we see the gun fire, it's unclear exactly who shot who until we see Harris fall back onto the floor.
Touching Home (2008) [Charlie Winston]: Found dead on Christmas morning by Robert Forster near a creek outside his truck. It isn't clear whether his death was by a suicide, or if the he died (unintentionally) through alcohol poisoning.
Salvation Boulevard (2011) [Dr. Paul Blaylock]: Accidentally shot in the head by Pierce Brosnan. (Played for comic effect)
The Face Of Love (2013) [Garret Mathis / Tom Young]:
Phantom (2013) [Captain Dmitri 'Demi' Zubov]: Killed (presumably poisoned or suffocated from toxic fumes) along with most of his crew during a struggle with David Duchovny and his cohorts. His body is later seen when a rescue group arrives.
The Stand (1994 TV miniseries) [General Starkey]: Commits suicide (off-screen) by shooting himself in the head in his office; we see blood splatter onto a monitor, and his body is shown when his subordinates rush into the office. (See also J.K. Simmons in the 2020 version.)
Community content is available under
CC-BY-SA
unless otherwise noted.