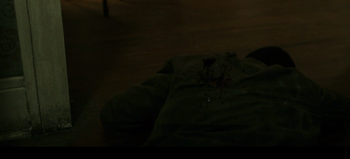 Dylan Minnette (1996 - )
Singer/rhythm guitarist with the group The Feaver
Don't Breathe (2016) [Alex]: Shot to death by Stephen Lang as Jane Levy looks on in horror.
The Open House (2018) [Logan Wallace]: Either drowned or strangled off-screen by the unidentified killer. We see the killer approach Dylan as he struggles to get away then the film cuts to Dylan's body lying on the bank of a river.
Lost: The End (2010) [David Shephard]: Appearing in the Afterlife as Matthew Fox's son, he ceases to exist when Matthew regains his memories from his past life and realizes that he never had any children.
R.L. Stine's The Haunting Hour: Brush With Madness (2011) [Corey/The Mad Artist]: Playing a dual role, "Corey" is killed with a power saw (off-screen), along with Chanelle Peloso, by "The Mad Artist". While their deaths are not shown, it is heavily implied, when Mackenzie Gray finishes his graphic novel, depicting the events of the episode, then places his work in a paper shredder.
Scandal: The Price of Free and Fair Election (2014) [Jerry Grant Jr.] Fatally poisoned by Brian Letscher on the orders of Joe Morton; Dylan feels the effects of the poison during Tony Goldwyn's speech and later dies in the hospital.
Community content is available under
CC-BY-SA
unless otherwise noted.