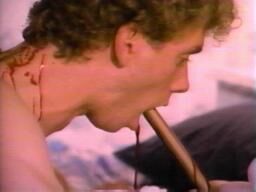 Doug Jones (1960 - )
Hocus Pocus (1993) [Billy Butcherson]: Killed (off-screen) by Bette Midler's witchcraft using supernatural poison, some time before the movie begins; he appears as a zombie after Bette resurrects him in the present day, and he returns to his grave after the witches are destroyed.
Something About Sex (Denial) (1998) [Ghost]: Plays a ghost (though I don't know anything else about his role).
Three Kings (1999) [Dead Iraqi Soldier]: Killed in combat with the US forces.
Adaptation (2002) [Augustus Margary]: Beaten to death by poachers in the forest; shown in a flashback/"historical" sequence as Meryl Streep writes about it in her book. (Thanks to Tommy)
The Time Machine (2002) [Spy Morlock]: Presumably rapidly aged to death, like all the Morlocks, when Guy Pearce sabotages his time machine to make it explode and create a time shockwave.
Angel of Death (2009) [Dr. Rankin]: Shot repeatedly by Vail Bloom along with her bedridden father in order to frame Zoë Bell, we only see Vail firing.
Absentia (2011) [Walter Lambert]: Killed (off-screen) by the entities from the cursed haunted tunnel, after his son (James Flanagan) fails to deliver a puppy as a sacrifice for them to keep him alive inside it longer. His contorted body is seen when Courtney Bell, Katie Parker and police discover it at the tunnel's entrance, as Katie identifies him.
Raze (2013) [Joseph]: Stabbed in the neck by with a wooden spike by Zoë Bell while Doug is strangling Zoë.
Crimson Peak (2015) [Edith's Mother/Lady Sharpe]: In a dual role, "Edith's Mother" dies of an unspecified illness and "Lady Sharpe" is murdered (off-screen) by her daughter (Jessica Chastain), both some years before the story begins. They both reappear throughout the film as ghosts.
The Midnight Man (2016) [Vick]: Possibly beaten to death (off-screen) by Will Kemp after tiring him up and about to perform test on him.
Teen Wolf: Galvanize (2014) [William Barrow/The Shrapnel Bomber]: Electrocuted by Arden Cho on reflex as Jones advances with an electrical cord, a phenomena attributed to Cho's Kitsune abilities entitled Foxfire. Dylan O'Brien and Tyler Posey are knocked back by this Jones' death and O'Brien's contained possessing Nogitsune demon then takes control due to this.
Z Nation: Rozwell (2015) [Dan Scully]: Dies in a plane crash and comes back as a zombie. He is then put out of his misery by Missi Pyle.
Community content is available under
CC-BY-SA
unless otherwise noted.