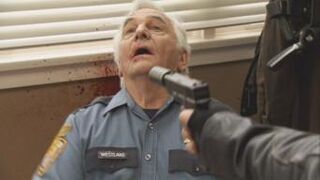 Donnelly Rhodes (1937 - 2018)
Gunfight In Abilene (1967) [Joe Slade]: Loses the title showdown to Bobby Darin. (Thanks to Brian)
Tron: Legacy (2010) [Grandpa Flynn]: Dies (off-screen) of an old age/natural causes, at some point between the opening prologue and the main portion of the story, his death is mentioned in a conversation between Jeff Bridges and Garrett Hedlund, he died when Garrett was 12 years old.
Wagon Train: The Wanda Snow Story (1965) [Jeremiah Stewart]: After escaping the prison wagon for the murder of Arthur O'Connell , Donnelly attempts to create a diversion to aid his escape by blowing up a supply wagon filled with dynamite. The brakes of the wagon fail causing him to strike his head knocking him out until the wagon explodes with him in it.
Flight 90: Disaster on the Potomac (1984 TV Movie) [Arland D. Williams Jr.]: Drowned from a plane crash while he was trying to rescue from the frozen river.
The X-Files: Shapes (1994) [Jim Parker]: Mauled to death by his son (Ty Miller) in his werewolf form.
Beyond Loch Ness (2008 TV) [Uncle Sean]: Eaten by the Loch Ness Monster.
Community content is available under
CC-BY-SA
unless otherwise noted.