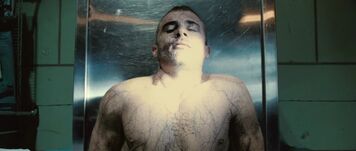 Dominic Purcell (1970 - )
Blade: Trinity (2004) [Drake]: Stabbed in the stomach/side with an arrow while in his vampire form containing the daystar bio weapon by Wesley Snipes causing Dominic to expose/spread it to the other vampires. He dies while talking to Wesley after Dominic turns back to his human form.   His body is later seen in the morgue during an autopsy.
Killer Elite (2011) [Davies]: Crushed to death/struck by a mack track big rig (at the end of a chase) while he's fleeing across a motorway from SAS.
Breakout (2013) [Tommy Baxter]: Stabbed in the neck by Brendan Fraser while Dominic is arguing with Ethan Suplee about killing Brendan`s kids.
The Bag Man (2014) [Larson]: Shot to death by John Cusack.
Legends of Tomorrow: Aruba (2017) [Mick Rory - Aberration]: In a dual role as Mick from the past and an aberration from an alternate future, the aberration is killed after being stabbed through the back by Wentworth Miller while pointing his heat gun at Neal McDonough. The past version of Mick survives the episode.
Legends of Tomorrow: Here I Go Again (2018) [Mick Rory]: Killed multiple times throughout the episode in a time loop when the Waverider explodes. (The time loop is later revealed to be a simulation for Tala Ashe set up by Amy Pemberton to help Tala become close with the Legends and stay, so Dominic survives the episode.)
Community content is available under
CC-BY-SA
unless otherwise noted.