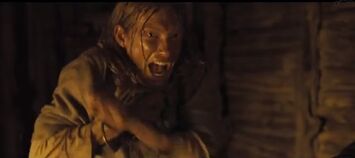 Domhnall Gleeson (1983 - )
Never Let Me Go (2010) [Rodney]: Dies (off screen) after donating his vital organs. (We don't see Domnhall after a certain point, but his death is implied given the fates of other cloned humans.)
Ex Machina (2015) [Caleb Smith]: Presumably dies (off-screen) of dehydration/starvation after Alicia Vikander locks him in his room after cutting the power; we last see him trying in vain to break the door down.
The Revenant (2015) [Captain Andrew Henry]: Shot in the forehead (off-screen) by Tom Hardy as they exchange gunfire; we only hear the shots. Tom then scalps his body (off-screen) in order to make it look like a Native American ambush. We learn he was the one who was killed when Leonardo DiCaprio discovers his body. His body is shown again as Leonardo brings it along on horseback. His body is later shot by Tom when Leonardo props it up atop the horse in order to trick Tom into thinking it's him.
Black Mirror: Be Right Back (2013) [Ash]: Dies (off screen) in a car crash; his death is revealed when the police arrive to inform Hayley Atwell. Domhnall's personality is later resurrected by Haley in the form of a robotic duplicate.
Community content is available under
CC-BY-SA
unless otherwise noted.