Line 34:
Line 34:
 

Dina Meyer - The Evil Within.JPG|Dina Meyer's death in ''The Evil Within''

 

Dina Meyer - The Evil Within.JPG|Dina Meyer's death in ''The Evil Within''

 

dinameyerfederalprotection.png|Dina Meyer dead in Federal Protection

 

dinameyerfederalprotection.png|Dina Meyer dead in Federal Protection

−

Piranha-3D-diver-corpse.png

+

Piranha-3D-diver-corpse.png

 

</gallery>

 

</gallery>

 

[[Category:1968 Births]]

 

[[Category:1968 Births]]
---
Revision as of 22:11, 31 October 2018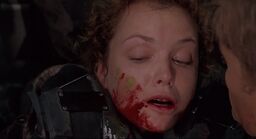 Dina Meyer (1968 - )
Film Deaths:
Starship Troopers (1997) [Private Dizzy Flores]: Impaled by an alien's claws during a battle; she dies on the transport ship shortly afterwards while talking to Casper Van Dien. Her body is shown again at her funeral.
Stranger Than Fiction (2000) [Emma Scarlett]: Dies of smoke inhalation after Todd Field traps her in an elevator, which then fills with smoke. (Thanks to Nick)
Deadly Little Secrets (2001) [Stephanie Vincent]: Shot in the chest by Craig Sheffer while she and Dylan Walsh are running away; she dies in Dylan's arms shortly afterwards. (Thanks to Veronica)
D-Tox (2002) [Mary]: Drilled in eye (off-screen) by Christopher Fulford when she looks through the peephole to see who's at the door (he then shoots her in her other eye with a silenced gun); her body is shown again afterwards when Sylvester Stallone finds her hanging from a noose (then again as he holds her while police look on). (Thanks to Germboygel and Nick)
Federal Protection (2002) [Bootsie Cavender]: Commits suicide by pulling the trigger of a gangster's gun as he holds her hostage. (Thanks to BillMed)
Crazy Eights (2002) [Jennifer Jones]: Commits suicide (off-screen) by slitting her wrists. (Thanks to Germboygel)
Saw III (2008) [Det. Allison Kerry]: Chest torn open by a deathtrap-device that Shawnee Smith had attached to Dina's ribcage (she dies as Costas Mandylor looks on, to make sure she can't escape). (Thanks to Kemuel)
Piranha 3D (2010) [Paula Montanello]: Partially devoured by piranhas; Adam Scott then pulls what's left of her body out of the water. (Thanks to Tommy and Cody)
Lethal Seduction (2015; TV film) (Stripped Of Innocence) [Carissa Kensington]: Impaled on the right side of her body with a spear and thrown out on a swimming pool deck by Brian Smith as she is about to kill Amanda Detmer and her son (Caleb Ruminer).
The Evil Within (2017) [Lydia]: Stabbed with a knife in the solar plexis off-camera by Frederick Koehler after he performs a magic trick of vanishing the knife in front of Dina.He later drills the back and top of her head by a power drill while she's lying on a net-bed,succumbed to the fatal wound and finally plunge a fire extinguisher pipe into the back of her head and and turns it on as blood splatters violently.Eventually she dies.Her body is again appeared as a stuffed Dina as Koehler puts on a ventriloquist act with her dead body in front of Sean Patrick Flanery.
Evil Doctor (2018; TV film) (Snatched) [Dr. Natalie Barnes]: Falls to her death from a hospital roof after attempting to kidnap Jen Lilley and Corin Nemec's baby.
Television Deaths:
Thief: Pilot (2006) [Wanda Atwater]: Dies (off-screen) of heart damage following a car accident; her body is shown lying in her hospital bed afterwards when her husband (Andre Braugher) and daughter (Mae Whitman) enter. (Thanks to Luis)
Gallery
Community content is available under
CC-BY-SA
unless otherwise noted.