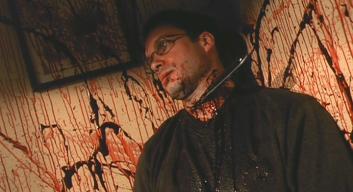 Diedrich Bader (1966 - )
Film Deaths
Edit
The Assassination File (Out in the Cold) (1996) [Scott McDonough]: Shot in the head, though I don't know by whom. (I haven't seen this movie, but it's mentioned in his IMDB biography as his first death scene.)
Buzz Lightyear of Star Command: The Adventure Begins (2000) [Wrap DarkMatter]: Supposely perished in of Zurg's (Wayne Knight) lab Base when Buzz Lightyear (Tim Allen) tries to save him, but sents him flying. However, it turns out he fake his death and was working with Zurg all along.
Spooky Buddies (2011) [Halloween Hound]: Voicing a Dog, he is turned into Stone when Nico Ghisi reflected his spell back at him. Its possible he turn into dust when the Sun came up.
TV Deaths
Edit
Gargoyles: Hunter's Moon Part 3 (1996; animated) [Jason Canmore/Charles Canmore]: Playing a dual role as father and son, the father "Charles" is knocked off the roof of Notre Dame cathedral at the end of a fight with Demona (voiced by Marina Sirtis) in a flashback sequence. (The son "Jason" survives the episode) (Thanks to Neil)
CSI: Two and a Half Deaths (2008) [Bud Parker]: Presumably bleeds to death after he accidentally cuts himself shaving; the episode ends with him bleeding profusely and remarking "That's not good". (Because the episode ends before he actually dies, this is "Half" the death mentioned in the title) (Played for comic effect)
Batman The Brave and the Bold: Emperor Joker (2010;animated) [Batman]: Killed multiple times by The Joker (Jeff Bennett (II)) using powers he stole from Batmite (Paul Reubens), he's smashed with a mallet, dropped in acid, burned to death with flamethrowers, dropped in a wood chipper, decapitated with a guillotine, eaten by sharks, impaled on a bed of spikes, and run over by a train. (played for comic effect)
Batman The Brave and the Bold: Bat-Mite Presents: Batman's Strangest Cases (2011; animated) [Lord Death Man]: In the prologue, it mentions he came back from the dead after being captured, then he is shown dying again when Batman (Corey Burton) ram a wrecking ball into his car, then drop dead and is later shown being bury while Batman and Robin (Grey Griffin) watch. However, its later revealed that he had been using a secret Yoga Method to pretend he was dead. He then perishes in an explosion when his Helicopter crashed into Powerlines and his Mask is seen flying out, though Batman and Robin suspect he made have escaped.
Notable Connections
Edit
Community content is available under
CC-BY-SA
unless otherwise noted.