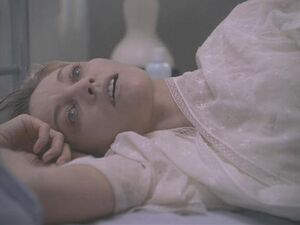 Diane Lane (1965 - )
Touched by Love (1980)

 [

Karen

]: Dies of cerebral palsy complications.

Descending Angel (1990) [Irina Stroia]: Accidentally shot by George C. Scott's thugs when they try to shoot Eric Roberts. (Thanks to FP)
Wild Bill (1995) [Susannah Moore] Dies off-screen of unknown causes. Her death is mentioned by her son (David Arquette) to Jeff Bridges.
The Glass House (2001) [Erin Glass]: Dies (off-screen) of a drug overdose; her body is shown afterwards when Leelee Sobieski wakes up and discovers Diane lying in bed next to her, and again when Stellan Skarsgard comes home and discovers her. (Thanks to Glenn, Nadine, and NW).
Trumbo (2015) [Cleo Trumbo]: Dies (off-screen) of old age/natural causes many years after the film's conclusion; her death is mentioned in the closing text.
Mark Felt: The Man Who Brought Down the White House (2017) [Audrey Felt]: Commits suicide (off-screen) by shooting herself in the head; her death is mentioned in the her death is mentioned in the closing text.
Fallen Angels: Murder, Obliquely (1993) [Bernette Stone]: Possibly killed (off-screen) by Alan Rickman; we only see Alan behaving suspiciously as he talks to Laura Dern, stopping her from entering the room. Diane's disappearance is discussed by the other characters afterwards, but it's never confirmed whether Alan killed her or even whether she's actually dead. (This episode was available on the VHS compilation Fallen Angels Volume One.)
Community content is available under
CC-BY-SA
unless otherwise noted.