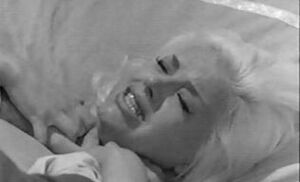 Diana Dors (1931 - 1984)
Yield To The Night (Blonde Sinner) (1956) [Mary Price Hilton]: Executed (off-screen) by hanging; the movie ends with her walking to the gallows.
The Unholy Wife (The Lady and the Prowler) (1957) [Phyllis Hochen]: Executed (off-screen) by the electric chair; we last see her being led to the execution chamber, followed by a scene of her husband (Rod Steiger) talking to her son (Gary Hunley).
Baby Love (1968) [Liz]: Commits suicide by slitting her wrists in the bathtub (while fully clothed). Her body is shown afterwards when her daughter (Linda Hayden) discovers her.
Berserk! (Circus of Terror) (1967) [Matilda] Bisected at the waist after Judy Geeson sabotages the magician's act, so that Diana really is sawn in half, we only see Diana scream. (Thanks to Garrett)
Hammerhead (1968) [Kit]: Accidentally knocked off a ledge (onto hard rocks) by David Prowse (as David is struggling with Judy Geeson, who's trying to break away)
Nothing But The Night (1972) [Anna Harb]: Apprehended by an unseen person as she is snooping around in the school, we next see her when she is apparently unconscious and dressed up as the guy on top of a long pole which is then lowered into the bonfire by Gwyneth Strong. (Thanks to Brian)
Alfred Hitchcock Presents: The Sorcerer's Apprentice (1962) [Irene]: Bisected at the waist (off-screen) after Brandon De Wilde shuts her in the magician's box and turns on the power saw, thinking he can do real magic. We only see Diana screaming as the blade starts to descend. (Even though nothing was actually shown, the network decided the concept was too gruesome, and refused to broadcast the episode. However, it has since been aired in syndication.)
Community content is available under
CC-BY-SA
unless otherwise noted.