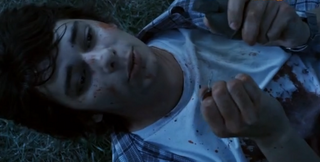 Devon Bostick (1991 - )
Godsend (2004) (Adam) [Zachary Clark Wells]: Commits suicide (off-screen) by burning himself after he sets his house on fire, some time before the film begins; his death is only mentioned when Janet Bailey informs Greg Kinnear. His DNA is then infused with that of the cloned Cameron Bright, by Robert De Niro, so that a part of Devon may live again.
Hidden 3D (2011) [Lucas]: Killed (off-screen) by the manifestations; we only see him being dragged away, as Alessia Agrosì tries unsuccessfully to pull him free. His body is shown being devoured by Elliott Larson when Alessia manages to enter the room he was dragged in to.
Dead Before Dawn 3D (2012) [Casper Galloway]: Killed in an explosion when he pulls the pin from a grenade, as a sacrifice in order to remove the curse placed upon him and the town. The screen flashes white before time rewinds back to the point where Devon and his friends arrive at Christopher Lloyd's shop. (Devon survives the rest of the movie after this point.)
A Dark Truth (2012) [Renaldo]: Commits suicide by shooting himself.
Son of Joe Bostick and Stephanie Gorin (casting director)
Brother of Jesse Bostick
Community content is available under
CC-BY-SA
unless otherwise noted.