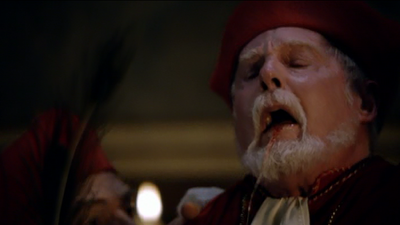 Derek Jacobi (1938 - )
Deaths in Film
Edit
The Secret of NIMH (1982; animated) [Nicodemus]: Providing the voice of an American rat, he is crushed to death by the pulleys and ropes when his former friend Jenner (voiced by Paul Shenar) cuts the ropes that are hoisting up the cinder-block home of Mrs. Brisby (voiced by Elizabeth Hartman). (Thanks to Drew, Aaron, and Tommy)
Revengers Tragedy (2002) [The Duke]: Poisoned when Christopher Eccleston tricks him into kissing Jean Butler's skull, whose teeth Christopher had coated with poison. His body is shown again later on lying among all the flowers and stuffed animals in front of Sophie Dahl's shrine. (In the DVD audio commentary, director Alex Cox confirms that a special-effects dummy head was used for this later scene.)
The Riddle (2007) [The Tramp]: Commits suicide by wading quite happily into the river Thames and drowning himself at the end of the film. (Thanks to Brian)
The Old Curiosity Shop (2007) [Grandfather]: Dies of old age/natural causes, compounded by grief over the death of his granddaughter (Sophie Vavasseur). (I haven't seen this version, but I'm familiar with the story.)
Branagh Theatre Live: Romeo and Juliet (2016) [Mercutio]: Stabbed by Ansu Kabia.
Horrible Histories: The Movie - Rotten Romans (2019) [Claudius]:
Deaths in Television
Edit
Richard II (1978 TV) [Richard II]: Stabbed in the back by Desmond Adams while fending off Desmond's servants in his dungeon.
Cyrano de Bergerac (1985) [Cyrano de Bergerac]: Fatally injured by being run over by a carriage, he dies shortly afterwards while talking to Sinead Cusack.
Marple: The Murder at the Vicarage (2004) [Colonel Protheroe]: Stabbed in the back by Jason Flemyng and Janet McTeer; his body is shown afterwards when he's discovered, and the murder is shown in a flashback later on. (Thanks to Hamish)
Community content is available under
CC-BY-SA
unless otherwise noted.