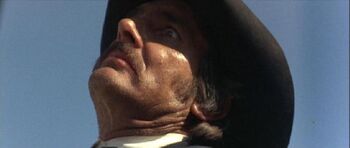 Dennis Weaver (1924 - 2006)
Horizons West (1952) [Dandy Taylor]: Shot to death by a lynch mob (who were trying to kill Robert Ryan) after Dennis gives Robert his horse in order to escape. (Thanks to Brian)
The Nebraskan (1953) [Captain De Witt]: Ambushed and shot on the trail through Sioux country by Lee Van Cleef. (Thanks to Brian)
​Law And Order (1953) [Frank Durling]: Shot by Russell Johnson when he pulls his gun after finding Russell with his sister Ruth Hampton . (Thanks to Brian)
The Man from the Alamo (1953) [Reb]: Presumably killed (off-screen) during the Battle of the Alamo. The battle isn't actually depicted in the film, but the implication of his fate is obvious. (Thanks to Brian)
Duel At Diablo (1966) [Willard Grange]: Commits suicide (off-camera) by shooting himself with the gun that James Garner had given him, after Dennis begs James to kill him after he was tortured and burned by the Apaches.We only hear the shot as James and Dennis' wife (Bibi Anderson) walk away; his body is not shown afterwards. (Thanks to Brian)
A Man Called Sledge (1970) [Erwin Ward]: Shot in the back by Wayde Preston as Dennis and the other outlaws are riding from the prison with the stolen gold.
The Twilight Zone: Shadow Play (1961) [Adam Grant]: Executed in the electric chair in his dream, at which point his dream world (and everyone in it) ceases to exist. The scene then switches to the dream happening all over again, with the characters switched around (see also Peter Coyote in the 1985 series episode).
Community content is available under
CC-BY-SA
unless otherwise noted.