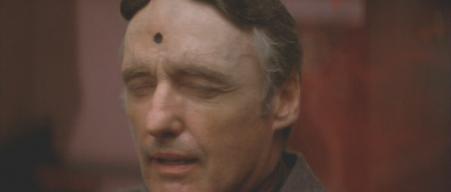 Dennis Hopper (1936 - 2010)
Film Deaths
Edit
The Young Land (1959) [Hatfield Carnes]: Shot to death by Patrick Wayne as Dennis tries to escape.
The Glory Stompers (1967) [Chino]: Accidentally stabbed in the back of the neck by Astrid Warner during a fight with Jody McCrea as Astrid attempts to throw the knife at Jody who holds Dennis in the way of the blade.
The Last Movie (1971) [Kansas]: Executed by crucifixion by the villagers.
Mad Dog Morgan (1976) [Daniel Morgan]: Shot to death by police and bounty hunters.
Bloodbath (Las Flores del vicio; The Sky Is Falling) (1979) [Chicken]: I vaguely recall that he was killed in this movie, though I can't remember the details.
Out of the Blue (No Looking Back) (1980) [Don Barnes]: Stabbed in the chest with scissors by Linda Manz in her bedroom.
King of the Mountain (1981) [Cal]: Killed in an car crash/explosion when he drives his car off of a cliff towards the end of movie.
Black Widow (1987) [Ben Dumers]: Poisoned (off-screen) by Theresa Russell; his body is not shown afterwards.
Paris Trout (1991) [Paris Trout]: Commits suicide by shooting himself in the mouth after killing Ed Harris. (Thanks to Nilescu)
Sunset Heat (1992) [Carl Madson]: Shot in the stomach by Michael Pare during a struggle on the beach.
Speed (1994) [Howard Payne]: Decapitated when his head hits a light fixture during a struggle with Keanu Reeves on top of a speeding subway train. (He also fakes his 'death' earlier in the film) (Thanks to Matt, Neil and James)
Waterworld (1995) [The Deacon]: Killed in an explosion when he collides with several of his henchmen's jet-skis while trying to kidnap Tina Majorino. (Thanks to Stephen and Ben)
Top of the World (1997) [Charles Atlas]: Killed when his platform slides down the dam and crashes, after Peter Weller cuts the cable. (Thanks to ND)
Tycus (video, 1998) [Peter Crawford]: Killed when the asteroid blows up the Earth at the same time that Hopper is being attacked by an angry mob of survivors critiquing his hypocritical methods.
EdTV (1999) [Henry 'Hank' Pekurny]: Dies of a heart attack (off-screen) while making love with Sally Kirkland; we learn of his death afterwards when Matthew McConaughey rushes to the hospital (believing that it was Martin Landau who died).
Held for Ransom (2000) [JD]: Eaten by alligators when Jordan Brower pushes him into the swamp after attacking Jordan.
Luck of the Draw (2000) [Giani Ponti]: Shot to death in a big shoot-out between the Treasury agents and Ice-T's thugs in a warehouse. (Thanks to ND)
Unspeakable (2002) [Warden Earl Blakely]: Ripping his own face off as he is being forced to by Pavan Grover's mind control power. 
Sleepwalking (2008) [Mr. Reedy]: Beaten to death with a shovel by his son (Nick Stahl).
Elegy (2008) [George O`Hearn]: Dies of a cancer or an STD because he did say he cheated on his wife.
TV Deaths
Edit
The Twilight Zone: He's Alive (1963) [Peter Vollmer]: Shot in the stomach by a police officer. The episode ends with him clutching his wound, unable to comprehend how his "invincibility" failed him; it's not confirmed whether or not the wound was fatal, but I thought I'd list it just to be safe.
Doublecrossed (1991 TV Movie) [Barry Seal]: Shot to death by assassins working for his former Medellin employers. (See also Tom Cruise in American Made.)
The Heart of Justice (1992 TV Movie) [Austin Blair]: Shot in the chest by Dermot Mulroney in street.
The Last Ride (2004 TV Movie) [Ronnie Purnell]: Killed in an explosion, along with Fred Ward, when he drives his car off of a cliff and blows up. (Thanks to Gary)
Notable Connections
Edit
His death scene in Speed was ranked at #1 on WatchMojo.com's Top 10 Satisfying Villain Deaths In Movies.
Community content is available under
CC-BY-SA
unless otherwise noted.