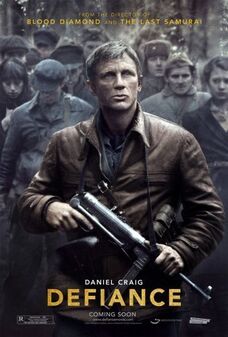 Defiance (2008)
Director: Edward Zwick
In 1941, Nazi soldiers are slaughtering Eastern European Jews by the thousands. Three brothers, Tuvia (Daniel Craig), Zus (Liev Schreiber) and Asael (Jamie Bell), manage to escape and take refuge in the forest where they played in childhood. Seeking a way to avenge the deaths of their loved ones, the brothers turn their daily struggle for survival into a battle against the Nazis. As news of their exploits spreads, others join the fray, willing to risk their lives for even brief freedom.
Male Deaths
Edit
Female Deaths
Edit
None.
Community content is available under
CC-BY-SA
unless otherwise noted.