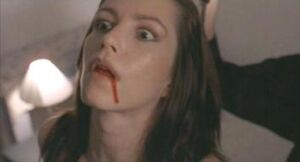 Debbie Rochon (1968 - )
Head Cheerleader Dead Cheerleader (2000) [Coach Elaine Riley]: Stabbed to death in the hot tub, after having a breast cut off. (Thanks to Jake)
Dead & Rotting (2002) [Young Abi]: Beaten to death with a brick by Jeff Dylan Green after being mystically transformed into a vulnerable semi-skeletal state. (Because this character was played by both Debbie and Barbara Katz-Norrod in her different forms, I'm listing it for both actresses, although the actual death scene used a dummy rather than either of them.)
The Bog Creatures (2003) [Tara]: Killed (though I don't know the details). (Thanks to Jake)
Corpses Are Forever (2003) [Margeurite]: Stabbed in the back by Jose Prendes in her bedroom, after he distracts her while she's holding a gun on him. (Thanks to Jose)
Severe Injuries (2003) [Professor Andrews]: Strangled (off-screen) with a mouse cord by Bill Homan; her body is shown in a brief cutaway when Amy Lynn Best discovers all the other bodies in the sorority house (even though Debbie wasn't even in the house). (Played for comic effect.)
Final Examination (2003) [Taylor Cameron]: Shot three times in the chest and stomach by Brent Huff as she attacks him with a knife; she then falls back into the swimming pool. (Thanks to Jake and Eric)
Bikini Bloodbath (2006) [Miss Johnson]: Hit in the chest with an axe by Robert Cosgrove Jr. in her bedroom. (She returned in the 2008 sequel Bikini Bloodbath Car Wash; her continual recovery from obviously-fatal injuries became a running gag in the series, but I'll go ahead and list them as death scenes just to be safe.)
Skeleton Key (2006) [The Bloufer Lady]: Stabbed in the chest with a wooden stake by Liam Smith as she's lying in bed.
Skin Crawl (2007) [Margaret/Madeline]: Playing a dual role, "Madeline" dies, along with Barbara Joyce, when they sacrifice themselves to cast a spell protecting their descendants in the 18th-century prologue. In the present-day, "Margaret" is stabbed repeatedly in the chest and stomach by Rodney Gray while John Paul Fedele restrains her; she later comes back to life as a zombie due to the spell.
October Moon 2: November Son (2008) [Hillary]: Stabbed to death in the chest in front of a packed restaurant.
Bikini Bloodbath Car Wash (2008) [Miss Johnson]: Disemboweled when Robert Cosgrove Jr. punches her in the stomach and pulls out her intestines. (She returned yet again in the 2009 sequel Bikini Bloodbath Christmas.)
Bikini Bloodbath Christmas (2009) [Miss Johnson]: Flatlines in the hospital due to her injuries from the previous film; she returns once again and survives the rest of the movie for once.
Cottonmouth (2009) [The Angry Ghost]: Dies (off-screen) of toxic shock syndrome, some time before the story begins; she appears as part of a group of ghosts who come back for revenge on John Brodie. (I haven't seen this short film, but I have read the original story on which it was based.)
Hanger (2009) [Rose]: Dies during a botched abortion (which the fetus survives).
Doom Room (2019) [Wife]: Shot in the chest then in the head by Johanna Stanton (Nudity Alert: Both nipples popped out)
Community content is available under
CC-BY-SA
unless otherwise noted.